A woman accused of making death threats against Stephen Hawking has been given a four month jail sentence after being arrested in a hotel in Tenerife, Canary Islands, Spain. The 37-year old American citizen is now banned from being within 500 metres (1,640 feet) of the British cosmologist (in Spanish: orden de alejamiento), theoretical physicist, author and Director of Research at Cambridge University's Research Centre for Theoretical Cosmology.
Prof. Hawking had been attending a conference in Tenerife when the woman was arrested at Playa de las Américas in Arona.
The scientist's daughter informed Spanish police that threatening messages began pouring into Prof. Hawking's media profiles, specifically his Twitter account – more than one hundred of them – plus three or four in his email account last Tuesday.
Prof. Hawking arriving at the lecture venue on Wednesday, escorted by two police officers standing behind him in this photograph. (Image: El País)
According to Canary Islands newspaper El Dia, the woman, called Jennifer Contonio, who apparently suffers from mental disorders, spent yesterday morning at the Trial Court (Juzgado de Intruccion) of Arona. During the trial, which local papers said was concluded rapidly, the prosecutor handling the case requested a sentence of four months imprisonment for the accused.
The judge, Judith Lorenzo, sentenced the defendant to four months in prison, which was suspended given that she has no history of crimes in Spain. She is not allowed to communicate with Prof. Hawking by any means for a period of eight months.
---
---
In court, Ms. Contonio acknowledged the gravity of her threats, and accepted the sentence.
Spanish authorities immediately took the threats reported by Prof. Hawking's daughter seriously and sent a team to investigate.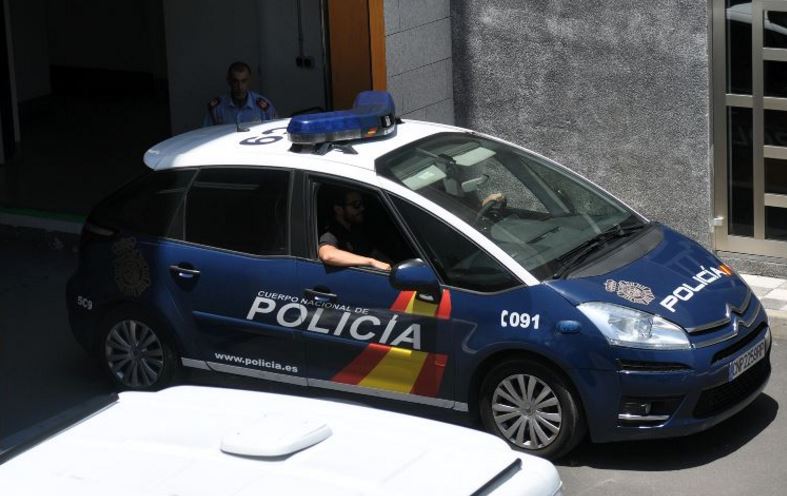 A police car transporting the woman who made the death threats. She was given a 4-month suspended jail sentence for sending death threats to Prof. Hawking's Twitter and email accounts. (Image: El Dia)
According to local newspapers, Ms. Contonio warned him that she would follow, kill and place him in a body bag – she wrote: "I am waiting for you and I am going to do it (te estoy esperando y lo voy a hacer)."
Local police (Cuerpo Nacional de Policía en Playa de las Américas) said that she looked nervous when she was arrested, but collaborated fully.
---
---
Ms. Contonio had been staying in a hotel in Rafael Puig Lluvina avenue, about 800 metres from where Hawking spoke at the Starmus Festival in Arona. The festival was attended by Nobel laureates, famous astronauts and musicians, including Hans Zimmer, Brian Eno and Brian May.
During his lecture – 'A Brief History of Mine' – Prof. Hawking predicted that humans would not survive for another thousand years on this planet, because of Earth's fragility.
According to national Spanish newspaper El País, Prof. Hawking arrived to give his lecture with a police escort, something that surprised audience members. Outside the venue, police officers searched visitors' bags. Prof. Hawking's lecture attracted large crowds and long queues.
Arona is a town 59 km southwest of Santa Cruz de Tenerife, the island's capital. In 2013, its population was 81,000, making it Tenerife's third largest town. (Image: Google Maps)
Police found a map Ms. Contonio's hotel room in which she had detailed Prof. Hawking's route and itinerary during his stay in Tenerife. They also found material related to religious fanaticism – Prof. Hawking has previously talked about the unlikely existence of God.
According to El Dia, Ms. Contonio is expected to leave Tenerife today. She is believed to suffer from psychiatric problems and is obsessed with Prof. Hawking – while threating to kill him, she also told him that she loved him and would not do anything to him.
Spanish daily ABC reported that the woman had been following Prof. Hawking around the world and had been stalking and pestering him for several years with death threats. However, the situation came to a head last Tuesday when she flew very close to a venue in Tenerife where he was scheduled to give a lecture.
It became clear from some of the content in the emails she had sent, that she had been inside the conference venue – there were descriptions only somebody who had been inside could have made, local newspapers said.
Prof. Hawking sought permission from the judge to be absent during the trial, given that he was not well, according to La Opinión de Tenerife. After examining documentation that was delivered to her, the judge granted him permission to be absent – he remained at his hotel during the trial.
Video – Prof. Hawking talks to Larry King
In this RT America video, you can listen to Prof. Hawking joining Larry King to discuss the greatest issues facing Earth, where he believes artificial intelligence is heading, and what still intrigues and mystifies him about the Universe.