The Swiss National Bank has imposed a negative rate of -0.25% on "sight deposits" with over 10 million Swiss francs ($10.22 million). A sight deposit is a type of instant access bank account, where money can be withdrawn immediately without having to give notice or incurring a penalty.
The new negative rate will come into force on January 22, 2015.
The measure is aimed at pushing down the value of the Swiss franc, which has risen significantly during the past few months.
Russia's currency crisis plus the sharp decline in oil prices have encouraged investors to seek out "safe havens". In times of economic uncertainty Switzerland tends to see an increase of money flowing into the country.
The central bank's announcement today had some success. The Swiss franc (CHF) fell against the euro, falling from 1.203 to 1.201 after the news went public.
The new rate means that people with a sight account with a balance of over 10 million will lose money, i.e. they will be paying for having an instant access account in CHF.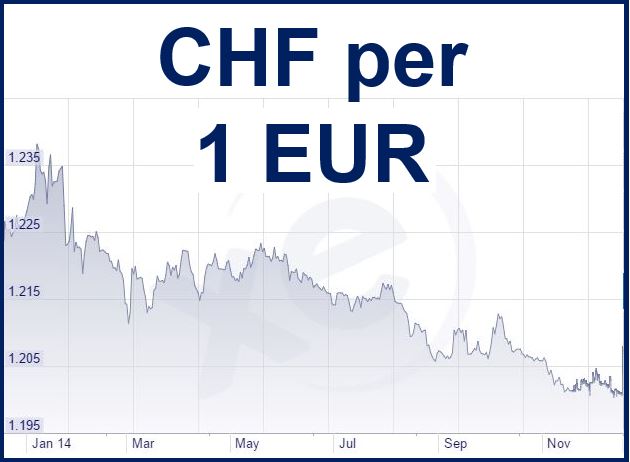 Switzerland's central bank has a CHF1.20 per 1EUR target (Source: xe-com)
The central bank hopes investors will think twice before opening an account.
The Swiss National Bank said in a statement:
"The SNB reaffirms its commitment to the minimum exchange rate of CHF 1.20 per euro, and will continue to enforce it with the utmost determination. It remains the key instrument to avoid an undesirable tightening of monetary conditions resulting from a Swiss franc appreciation."
"Over the past few days, a number of factors have prompted increased demand for safe investments. The introduction of negative interest rates makes it less attractive to hold Swiss franc investments, and thereby supports the minimum exchange rate. The SNB is prepared to purchase foreign currency in unlimited quantities and to take further measures, if required."