TalkTalk Telecom Group plc has purchased pay-as-you-go media content provider blinkbox from Tesco plc. The two companies have not yet disclosed how much money changed hands.
The assets were acquired free of debt as a single cash transaction.
blinkbox is one of the UK's leading on-demand providers of pay content and works across multiple platforms and devices, both within and outside the home. TalkTalk, which has more than 1.2 million customers, says the acquisition is highly complementary to its existing strategy of being the best value for money TV provider in the country.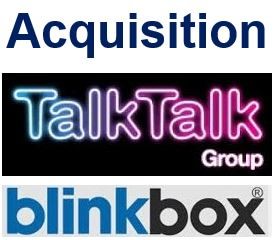 TalkTalk's acquisition of blinkbox now adds 75,000 new broadband customers and about 20,000 telephone accounts to its customer base.
The intergration of blinkbox to TalkTalk's exising TV business will start immediately "with the benefits of restructuring the combined platform and revenue synergies expected to flow from the end of calendar 2015," the London-based telecommunications group said.
TalkTalk's Chief Executive, Dido Harding, commented:
"Since launch TalkTalk TV has demonstrated its popularity with value-seeking customers to become the UK's fastest growing TV service. We are excited about the opportunity that blinkbox's platform and technology expertise bring, and which will significantly accelerate the development of our TV platform."
"The purchase of Tesco's broadband base is another example of TalkTalk leveraging its national network to grow faster. We are excited about the future of quad-play – fixed phone and broadband, TV and mobile – and this acquisition will help to further drive home our value for money advantage."
Troubled Tesco plc. announced on Thursday that it was to close 43 unprofitable stores across the UK, many of them local convenience shops, as well as its telecoms units and its headquarters in Cheshunt. In 2016, the new HQ will be in Welwyn Garden City.
About TalkTalk
TalkTalk Telecom Group plc is a company that provides pay TV, internet access, mobile network services and telecommunications to consumers and businesses in the UK.
The company was founded in 2003 as a subsidiary of Carphone Warehouse. In 2010, it was de-merged as a standalone company.