Tesco plc, the world's second largest retailer, is rewarding two ex-bosses who were at the helm as the company rapidly lost market share and a £250 million accounting scandal shocked The City, with massive Golden Handshakes.
The 'Golden Goodbyes' for the two ex-bosses had been suspended last year, pending the investigation into the issues regarding the accounting for commercial income.
Philip Clarke, who was Tesco's CEO until September 1st, 2014, is to receive £1,217,000, while Laurie McIlwee, who was chief financial officer, will get £970,880 – and this is while the accounting scandal, which has now expanded to £263 million, is still under investigation.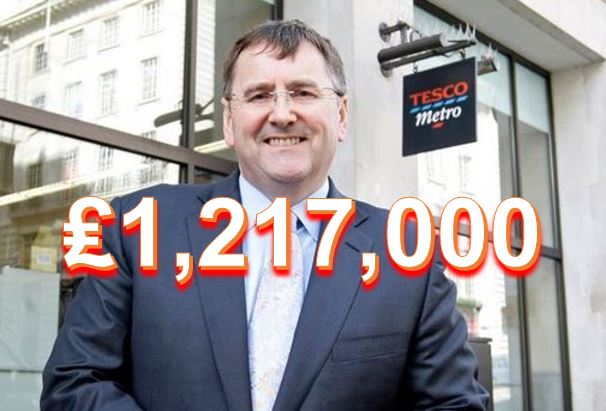 Philip Clarke got his money.
Mr. Mcllwee resigned in April 2014, a few months before the accounting irregularities were discovered in September. The company, with Mr. Mcllwee presumably in charge of finances, had artificially inflated its profits by £263 million.
Tesco said in a statement on Tuesday:
"The Company is contractually committed to make the relevant Payment to each former director unless it can legally establish a case of gross misconduct against him. The Company has taken legal advice and has concluded that it does not have the basis for continuing to withhold the payments."
Not in company's interests, says Tesco's Board
Tesco's Board says it does not think it would be in the company's best interests to defend costly claims for the payments.
Tesco continued:
"The SFO (Serious Fraud Office) continues to investigate the commercial income issue. If new information were to come to light which would change this assessment, the Company will pursue recovery of the Payments and damages and has fully reserved all its legal rights in this respect."
In other words, Tesco is paying out millions to the two people in charge when accounting irregularities occurred, and will try to get it back if illegal activity is proven.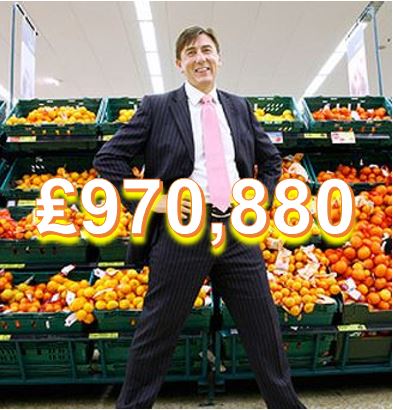 Laurie McIlwee received his money.
Tesco suspended eight (non-Board member) executives in connection with the inflated profits. One of them has reportedly returned to work recently.
The two ex-bosses walk away with £13 million
Mr. Clarke and Mr. McIlwee will walk away with £13 million when all the cash handed out today, money given out previously when they left, and share awards, are added up.
Meanwhile, thousands of Tesco workers face losing their jobs under new CEO Dave Lewis as he tries to save the company from disaster.
Kantar Worldpanel, a market research company, says Tesco's market share fell by 2.7% in the 12 weeks ending on December 7th