Electric car and vehicle power train component maker Tesla Motors Inc. posted an increased third quarter loss and revenue that almost doubled from $431 million in Q3 2013 to $852 million.
The Palo Alto-based company reported a $74.6 million loss in the third quarter, versus a loss of $38.5 million in the same period last year.
Third-quarter vehicle sales were 7,785 compared to its forecast of 7,800. Even so, Q3 saw its highest-ever delivery total, despite a July factory shutdown. During the quarter it also registered its highest ever peak in deliveries in a single day of 907 vehicles.
Tesla informed that its forecast for full year deliveries of its Model S sedans will be 33,000 vehicles, which is 2,000 fewer than in its previous guidance.
Approximately 10% of its reserves, $304 million in cash, were consumed during the quarter. The company says it will probably sell fewer vehicles than previously predicted this year because a plant upgrade, during which production had stop, took longer than expected.

(Source: Tesla Motors – Third Quarter 2014 Shareholder Letter)
The company earned $3 million ($0.02 per share), which was better that analysts had expected.
On a call with investors, CEO Elon Musk said the problem is not demand – production is – as well as "being too perfectionist about future products."
Mr. Musk reaffirmed his company's target of manufacturing up to 100,000 cars by the end of this year. A total of $350 million will be spent in the current quarter to raise capacity.
In after-hours trading, Tesla shares rose 7% after Nasdaq closing at $230.97.
The sale of emissions credits continues bringing in significant amounts of cash for the company. In Q3 2014, Tesla sold $93 million in credits. Sales of electric power trains, principally to Daimler AG, brought in $31 million.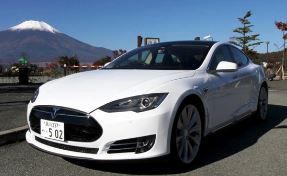 Tesla recently introduced the Model S to Japan and Hong Kong, and plans to deliver to Australia by the end of 2014.
Research and development expenditure increased by 28% in the third quarter versus Q2, while overhead costs jumped by 18%. In the quarter it spent $284 million on capital expenditures.
Mr. Musk said the appeal of the Model S has been broadened considerably with the introduction of Dual Motor all-wheel drive and Autopilot.
"Based on net orders since that introduction, excluding the extraordinary initial demand peak, we are confident of a 50% increase in both net orders and deliveries for Model S alone in 2014," Mr. Musk added.
Tesla Motors was founded by Marc Tarpenning and Martin Eberhard in July 2003. They both initially financed the firm. In 2004, Elon Musk invested in the company and became its chairman. It was Musk's long-term vision that pushed the development of affordable electric cars for the general public.