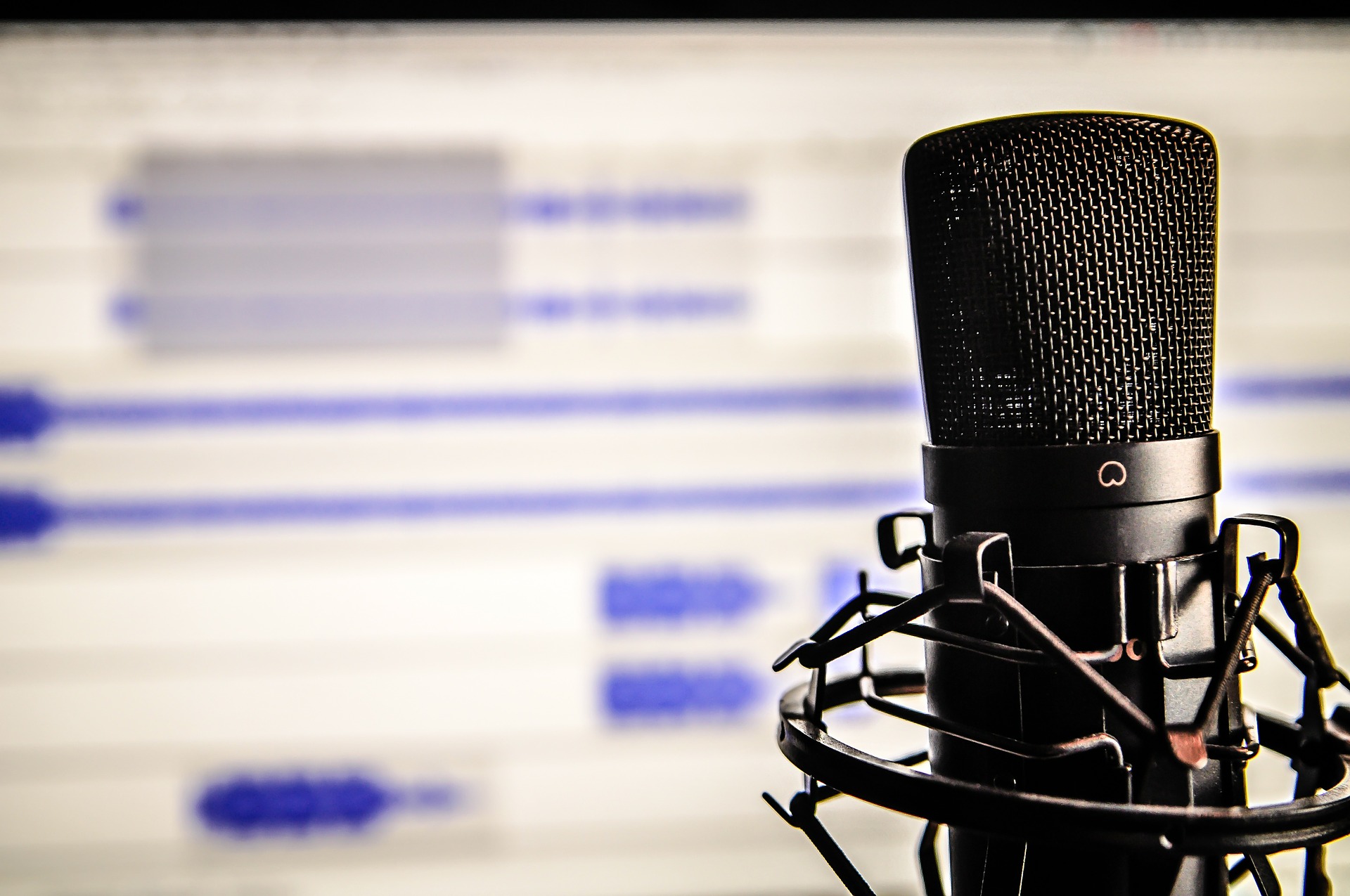 Are you in touch with the kinds of media your audience is consuming these days? Did you know audio content is becoming more and more popular with your audience—in fact, all audiences? Therefore, audio content is now even more important for businesses like yours. 
Find out why you should be creating audio content and just how easily you can do it.
Why audio content is a growing medium
There are lots of reasons why audio content like podcasts, audiobooks, voice search, and even voice-led social media channels are becoming more and more popular.
The first is that there is a demand for non-video or text-based content. Lots of us are very conscious that staring into a smart screen phone or at a television is not great for our health. 
We don't have to gaze at a screen to be entertained or get the information we need. Audio content fits better with a healthy lifestyle. We can walk, jog, work out at the gym and more while listening to audio content. 
It's also more convenient. We can listen to podcasts or audiobooks on our commute, whether we travel by car or by public transport. 
We can ask our smart speakers to give us the weather forecast, help our children with homework, or even entertain us with a game while we chop vegetables or load the dishwasher. 
Developments in bluetooth technology have spurred a move towards more and better audio content. 
Audio is more inclusive, welcoming those who are blind, partially sighted or with particular mobility problems into the conversation. Audio is giving these people better access to information. A great example of content with this audience in mind is IKEA's new audio catalog. 
Read on to explore even more ways that businesses can use audio content. 
How your business can use audio content
Podcasts are now hugely popular, generating millions of listeners per episode in some cases. Branded podcasts are gaining traction too. eBay and Microsoft are just two examples of companies with corporate podcasts. 
Just like written blog posts, you can use podcasts to generate followers and put yourself in front of a new audience. People under 35 are the most prolific users of audio content. Sixty-five percent of listeners are from this age group. By creating high-quality pieces, your new audio content will boost your authority in your market too. 
Interviews and discussions with colleagues and industry experts are an excellent way to get into podcasting. 
For quick and easy podcast generation, why not repurpose written blogs into podcasts? 
Audiobooks are another audio content option. If you have already produced ebook content, it can easily be converted into an audiobook.
Turning text on your website is also straightforward and may play an increasing role in SEO in the future. Remember, too, that smart speakers could be reading your website content aloud in response to voice search. It pays to bear this in mind when you create content for your site. 
There's no doubt that audio content is something you need to think about now. It needs to be an important element of your omnichannel marketing strategy. Let's explore audio blogging in more detail. It's an easy way to get started with audio content. 
How to create new audio content easily
You may be thinking, I don't have the skills to create audio blogs. Perhaps you are also wondering about finding the time. Equipment might be a concern, too.
The good news is that you don't need to worry about any of these things. Creating audio content is easier than you could ever imagine. 
The solution: AI text-to-speech.  
What is AI text-to-speech?
Quite simply, AI text-to-speech is technology that converts text content into audio using artificial voices. This technology is used by business giants like Google, Amazon, and Microsoft. 
Enormous advances in ensuring AI voices sound natural and human-like now mean this is an appealing alternative to using voiceover artists. Businesses of all sizes can benefit from this technology. 
The latest text-to-speech voices have been created using a new type of speech synthesis. These have better intonation and prosody and are more engaging. These voices are used for chatbots and voice assistants and for the type of content you are considering. 
If you've used a voice assistant like Amazon Alexa recently, you'll know how much this technology has improved. AI voices are often virtually indistinguishable from those of real human voices. 
What to do next
To create an audio blog, it really is as simple as having the written version ready and clicking a button. Let's see how easy it is. 
1. Select your voice
If you are using the right text-to-speech service, you should have hundreds of voices to choose from in many languages. Good services leverage the finest voices from Google Wavenet, Amazon Polly, IBM Watson and Microsoft. These present the most realistic, accurate and human-like speech.
All you need to do is select one. Your text is converted automatically at the click of a button. 
2. Preview and edit for perfection
Your audio is already ready for preview. You may be content with your new audio exactly how it is first off. However, a great text-to-speech service will provide you with some simple-to-use editing tools. 
You should be able to edit the style and tone of your AI voice through special customization. This helps convey the emotions you need to. 
You can also fine tune the pronunciation of words, add pauses and the voice's pitch. You can even slow down or speed up the rate of speech. 
The result is a fully customized voice, unique to your blog.
3. Use a plugin next time
For the ultimate shortcut, make use of plugins for WordPress and Medium. This allows you to convert your text blogs to audio instantly, right from your blog page. 
These plugins come with a customizable audio player so you can adapt it to suit the look and feel of your page. 
As you can see, it's very easy and incredibly beneficial to add audio content to your marketing strategy. With new AI text-to-speech tools, you can get started right away. 
---
You may be interested in: 5 Online Marketing Ideas & Strategies That Work