Cake Making Class
Baking cakes is not just a hobby, it's an art. And if you're looking to master this art, there's no better way than by enrolling in a cake-making class. Whether you're a beginner or an experienced baker, a cake-making class can provide you with the knowledge and skills necessary to create beautiful cakes from scratch.
In this article, we'll take a closer look at cake making class in Singapore, what they involve, and why they're a great way to learn the art of cake making.
What is a Cake Making Class
A cake making class is a course that teaches students how to make cakes from scratch. These classes cover a wide range of topics, including baking techniques, cake decorating fundamentals, and more complex baking recipes. Depending on the class, you may learn how to make cakes from a variety of ingredients and flavors, as well as how to use decorative icing techniques to take your cakes up a notch.
Most cake-making classes are designed for beginners, but there are also advanced classes for experienced bakers. Some classes may be held in-person, while others are offered online.
What Will You Learn in a Cake-Making Class
In a cake-making class, you will learn a variety of skills and techniques related to baking and decorating cakes. Here are some of the things you can expect to learn:
Baking Techniques:

You'll learn how to make different types of cakes from scratch, including sponge cakes, pound cakes, and more. You'll also learn about the different types of ingredients that go into making a cake and how to measure them accurately.

Decorating Techniques:

Once you've cooked your cake, you'll learn how to decorate it using various techniques. This may include using frosting, fondant, and other decorative elements.

Tools and Equipment:

You'll learn about the various tools and equipment needed to bake and decorate a cake, including measuring cups and spoons, mixing bowls, and cake pans.

Troubleshooting:

Baking can be a finicky process, and sometimes things don't go as planned. In a cake-making class, you'll learn how to troubleshoot common baking problems and how to fix them.

Creativity:

Finally, you'll learn how to use your creativity to come up with unique cake designs and flavor combinations.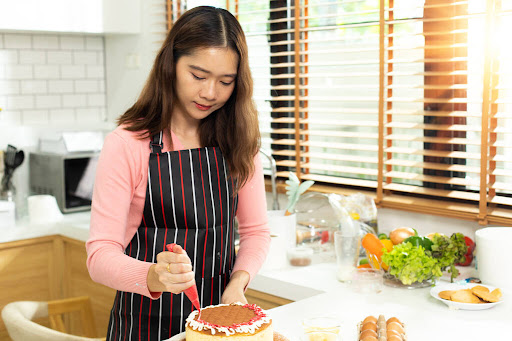 Why Take a Cake-Making Class
There are many reasons why you might want to take a cake-making class. Here are just a few:
Learn a New Skill:

Learning to bake and decorate cakes is a fun and rewarding skill to have. You'll be able to create beautiful, delicious cakes for special occasions or just for fun.

Meet Like-Minded People:

Cake-making classes are a great way to meet other people who share your passion for baking. You'll have the opportunity to network, make new friends, and learn from each other's experiences.

Improve Your Baking Skills:

Even if you're an experienced baker, there's always room for improvement. A cake-making class can help you refine your skills and take your baking to the next level.

Save Money:

Making your own cakes can be much cheaper than buying them from a bakery. With the skills you learn in a cake-making class, you'll be able to create beautiful, delicious cakes for a fraction of the cost.

Have Fun:

Baking is a fun and relaxing activity that can be enjoyed alone or with others. Taking a cake-making class is a great way to have fun while learning a new skill.
Conclusion
Taking a cake-making class can be an excellent way to learn new skills and techniques while having fun and being creative. With the right instruction, tools, and ingredients, anyone can learn how to make delicious and beautiful cakes for any occasion.
---
You may be interested in:Complete Guide To Starting A Cake Business From Home