Natural England informed that three nesting male hen harriers 'vanished' from Bowland in Lancashire. The RSPB and Lancashire police are appealing for any information that could help uncover the fate of these rare upland birds of prey.
The RSPB is offering a £10,000 reward for information which leads to a conviction.
Natural England said in a statement:
"Given the perilous status of the species, this represents a major setback for this year's breeding season. We will continue to offer our support to the police to find out what has happened to these birds."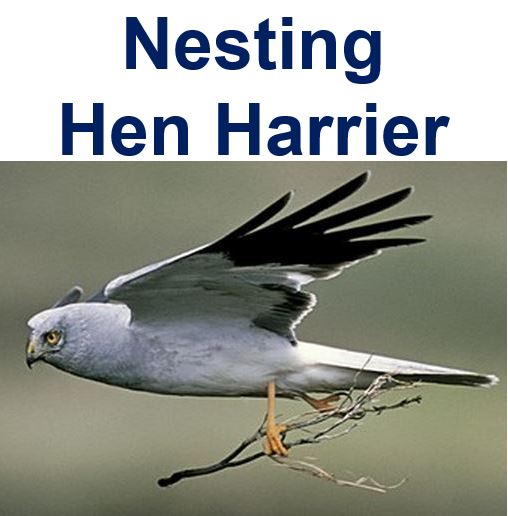 A male nesting hen harrier. (Image: RSPB)
The first bird disappeared from its nest at the United Utilities Bowland Estate three weeks ago, while a further two on active nests have not been seen since 30th April.
After the first bird disappeared, a young male arrived and nearly immediately took its place, thereby securing the eggs' safety.
The other two nests were not so lucky. Without males to bring them food, the females had to abandon their eggs, leading to the failure of both nests.
In 2014, there were only four successful hen harrier nests in the whole of England, two of which were on the United Utilities Bowland Estate. It is the most threatened breeding bird of prey in the country.
Hen harrrier future in England under threat
Breeding numbers are dangerously now. The failure of these two nests could have a devastating impact on the future of the hen harrier in England.
The RSPB wrote:
"The disappearance of the birds leaves just one active nest remaining in the Bowland Estate, putting the future of hen harriers in England even further in jeopardy."
"The United Utilities Bowland Estate has long been the last remaining stronghold of the English hen harrier. The RSPB has been working on the estate for over 35 years and has developed a strong partnership with United Utilities, together with the support of its shooting and farming tenants."
Hen harrier chicks in the nest. (Image: RSPB)
United Utilities and RSPB staff and volunteers, who have been monitoring the nests, are extremely upset and concerned by the probable disappearance of the birds. Lancashire police are currently investigating the matter, the RSPB informed.
According to the RSPB:
"In most circumstances, it is very unusual for male hen harriers to abandon an active nest; a 2008 government-commissioned report found that it almost never happened in most places."
"However, the report also revealed that nearly seven out of 10 of the nesting attempts which failed on grouse moors, did so following the disappearance of an adult."
in September last year, two young satellite tagged hen harriers stopped transmitting only weeks after fledging from nests on the United Utilities Bowland Estate.
The RSPB, as part of an EU LIFE+ funded project, will be satellite tagging as many hen harrier chicks as possible over the next five years. This will enable the RSPB to monitor the birds, and identify blackspots where they are most at risk.