British people are spending twice as long online today compared to 2005, fuelled by greater use of smartphones and tablets, says a new study by Ofcom, the government-approved regulatory and competition authority for broadcasting, telecoms and postal industries.
Ofcom's Media Use and Attitudes 2015 report shows that internet users aged 16 years and above claimed to spend 20 hours and 30 minutes online in 2014, compared to 9 hours and 54 minutes in 2005.
The greatest increase in time spent online year-on-year was 2014, with internet users spending more than 3.5 hours longer online each week compared to 2013 – 16 hours and 54 minutes in 2013 versus 20 hours and 30 minutes in 2014.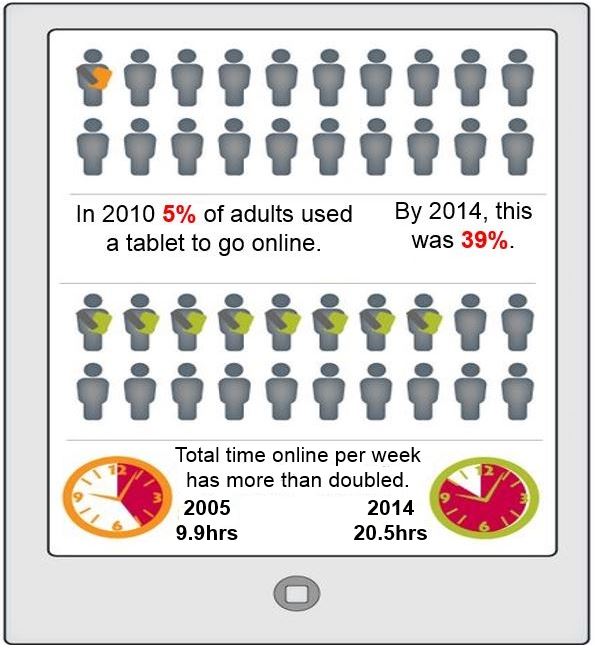 Five years of tablet computing
The amount of time individuals are online while 'out and about' – away from work, their place of study, or home – has risen by a factor of nearly five over the past decade, from just 30 minutes in 2005 to 2 hours and 18 minutes in 2014.
The proportion of UK adults using the internet has risen from 6 in 10 in 2005 to nearly 9 in 10 today.
Increased mobile and online entertainment
The majority of internet users are watching TV and video online. Twenty-seven percent of users regularly watch films or TV programmes online, compared to just 1 in 10 in 2007. Among 16 to 24 year-olds, the figure over the same period rose from 21% to 39%.
Over the past eight years, the percentage of internet users watching video clips online has risen from 21% to 39%.
Twenty-six percent of mobile users play games at least once a week, making the mobile phone the primary device for gaming today, compared to just 17% playing on game consoles. Fifteen percent of British adults today use a tablet for gaming.
In 2005, ten percent of internet users said they regularly played games online, compared to 22% in 2014.
Increase in instant messaging on mobiles
A growing number of people are keeping in touch with instant messaging, using apps such as WhatsApp, BBM and Facebook Messenger.
Smartphone regular messaging has jumped from 29% of mobile phone users in 2013 to 42% in 2014. Eighty percent of 25 to 34 year-olds are instant messaging at least once a week, compared to 38% ten years ago.
Seventy percent of mobile phone users were sending text messages in 2005, compared to 90% in 2014.
Five percent of mobile phone users in 2005 regularly used their phones to send emails, compared to 52% today. Twenty-seven percent regularly made phone calls over the internet (VoIP) in 2013, versus 43% in 2014. VoIP stands for Voice over Internet Protocol.
Social media use
Since 2007, the use of social media has tripled. According to the Ofcom survey, 72% of internet users aged 16+ say they have a social media profile today, compared to 22% in 2007.
In 2007, thirty percent of social media users logged into their social media websites or apps – including Tumblr, Instagram, LinkedIn, Twitter and Facebook – at least once per day, compared to 81% today.
Among 35 to 44 year olds, twelve percent were on social media in 2007, versus 80% today. This age group has seen the biggest growth in social media usage. Among 55 to 64 year olds, the percentage increased from 33% in 2013 to 49% in 2014.
TV still loved, but young people must have their mobiles
While people are clearly spending more time online, when they were asked which device they would miss the most, 37% of adults mentioned their TV sets.
Among 16 to 24 year olds, 59% said they would miss their mobile phones the most, compared to just 17% who mentioned their TVs.
Less concern about being on the internet
In 2005, seventy percent of people aged 16+ said they were concerned about the internet, compared to 51% in both 2013 and 2014.
However, the proportion of internet users agreeing that they should be protected from offensive or inappropriate online content increased from 51% in 2013 to 60% in 2014.
Concern regarding mobile apps increased from 20% of users in 2013 to 28% in 2014. This has been mainly driven by issues surrounding fraud, privacy and security.
Sixty-eight percent of internet users are happy to provide personal data online, believing they will benefit in some way. More people today, however, say they would never provide their debit or credit card details – 13% in 2013 versus 21% in 2014 – or their mobile number (17% in 2013 versus 26% in 2013).