British ESA astronaut Tim Peake wants as many people as possible across the globe to join him as he trains for the Digital Virgin Money London Marathon on the treadmill while orbiting Earth aboard the International Space Station (ISS).
So that as many runners as possible may join Major Peake on his training runs, the Digital Virgin Money London marathon can be downloaded free from runSocial, a mobile app on iOS.
Major Peake says he is using the London Marathon for some of his training runs on the space treadmill and will be posting his times on his Twitter account @astro_timpeake, which will be retweeted by @LondonMarathon.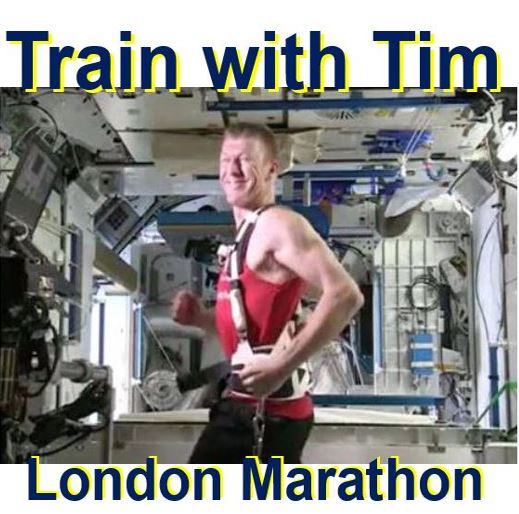 Thousands of people from around the world are expected to join Major Tim Peake as he trains each day for the London Marathon, which is just 50 days away. (Image: virginmoneylondonmarathon.com)
Training in space can be 'lonely'
Regarding training for a marathon on a treadmill in space, Major Peake said:
"It can be lonely pounding out the miles on the treadmill in the ISS. It would be fantastic to run with other people and see their avatars on my screen as I do my training. Only 50 days to go now!"
---
---
Participants can join Major Peake in his training at 10:00 GMT on Sunday 13th March. Full details on how you can participate in that training will be posted online next week.
Major Peake is running to raise awareness for the Prince's Trust, a British charity founded by Charles, Prince of Wales, and Frederick John Pervin to help young people.
He will become the first 'man' – not first person – to run a marathon in space as he takes on the challenge of the 26.2 mile (42.2km) distance on 24th April.
Sunita Williams ran the first marathon by any person in space. She completed the 2007 Boston Marathon. Her fellow crew members cheered her on and gave her oranges during the race. In 2008, back on Earth, she participated in the Boston Marathon again. (Image: Wikipedia)
Female American astronaut, Sunita Williams, was the first person to achieve this feat in April 2007, when she completed the Boston Marathon distance in 4 hours, 23 minutes and ten seconds.
On 24th April, at 10:00 GMT, Major Peake will start running in the London Marathon, at the same time as 37,000 other Earth-bound runners who will be setting off from Greenwich. The astronaut, however, will be strapped to a harness that tethers him to the treadmill, otherwise he'd simply float off after taking his first stride.
---
---
He will be watching an HD video of the iconic London course using RunSocial.
Hugh Brasher, Event Director of the Virgin Money London Marathon, said:
"Millions of people all over the world are following Tim's mission in space. Now is the chance for runners to train with him and help him as he prepares for this extraordinary marathon on the International Space Station."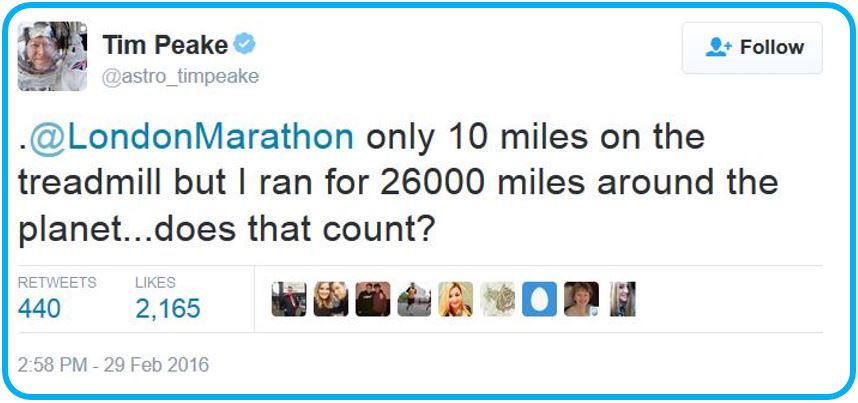 Major Peake runs on the treadmill while orbiting Earth nearly every day. (Image: twitter.com/astro_timpeake)
Training helps reduce muscle and bone loss
Astronauts on prolonged missions in space, where there is no gravity, gradually lose bone and muscle mass. They need to train their bodies every day to minimize this loss, which is bad for the health and increases their risk of fractures.
Major Peake's marathon training will make a considerable contribution towards his total bone and muscle mass. Even so, it doesn't matter how much astronauts train, by the end of their mission they should expect some loss. The secret is to do what they can to keep that to a minimum.
After spending time in the weightless environment of space, astronauts' bodies experience musculoskeletal, cardiovascular, neurobehavioral and other changes. They will also have been exposed to several types of radiation.
America's Scott Kelly and Russia's Mikhail Kornienko have just come back to Earth after spending a whole year aboard ISS. NASA and other space agencies said that what they will learn from these two men's time in space will help determine how well humans would fare on future deep space missions, such as the planned manned voyage to Mars.
Run with Tim!
You can join @astro_timpeake on a training run via @runsocial – find out
how here https://t.co/Dq5vK0ktEB pic.twitter.com/pm8yIqbvZy

— LondonMarathon (@LondonMarathon) March 5, 2016