True Religion filed for bankruptcy protection this Wednesday.
The beleaguered upscale jeans maker has experienced a sharp decline in sales since 2013 as consumers shifted from buying at traditional brick-and-mortar stores to doing their shopping online.
TowerCapital Partners, the private equity firm that owns the brand, struck a deal with lenders to cut True Religion's debt by about three-quarters. The reorganised company will see its debt load drop by $350 million to $140 million.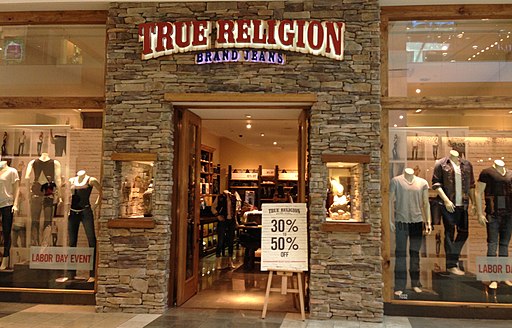 The restructuring deal will allow the company to keep its stores open and focus more on e-commerce.
True Religion will continue to operate its business without interruption to customers, employees and business partners throughout implantation of the plan. It expects to obtain confirmation of its pre-arranged plan by the Bankruptcy Court within 120 days.
John Ermatinger, President and CEO of True Religion, said in a statement:
"After a careful review, we are taking an important step to reduce our debt, reinvigorate True Religion's iconic brand and position the company for future growth and success.
"By dramatically improving our capital structure 24 months in advance of our term loan maturity, we will continue business operations as usual and provide our employees and business partners the long-term stability they need, while providing the necessary flexibility to invest in growing our digital footprint, building connections with customers, and improving organizational competencies.
"I want to recognize our lender community, our private equity owner, TowerBrook Capital Partners, and our financial and legal advisors for negotiating a constructive outcome for the company.
"Importantly, I want to thank our dedicated employees for remaining focused on the business, and our loyal customers and valued business partners for their support throughout this process."
True Religion is the latest fashion retailer to suffer from changing consumer habits. Over the past two years, brands like American Apparel, Quiksilver, Wet Seal, Nasty Gal and Pacific Sunwear have similarly applied for bankruptcy protection.