UK business confidence is at a 20-year high, fueling predictions of an excellent first half for 2014.
The data comes from the latest Lloyds Bank Commercial Banking Business in Britain report.
The report, which is issued twice a year, surveys the views of 1,500 businesses in the United Kingdom. It shows that companies expect greater profits, order and sales during the first half of this year.
In its latest report, the UK business confidence index has risen to 45% compared to 30% in July last year.
According to Lloyds Bank, this is the fourth successive rise in net balance ofUK  business confidence. Economists believe it will exceed January 1994's record 45%.
Managing Director, SME and Mid Markets Banking at the Lloyds Banking Group, Tim Hinton, said:
"This is an encouraging improvement in confidence as we start 2014 and we hope that it will
lead to a sustainable UK recovery allowing British businesses to grow and prosper."
There is also growing optimism regarding the UK economy. Business leaders are more positive about the UK's economic prospects than at any time since January 2007. Sixty-five percent of companies said they are now more optimistic today compared to last July, while 9% believe things are looking worse now.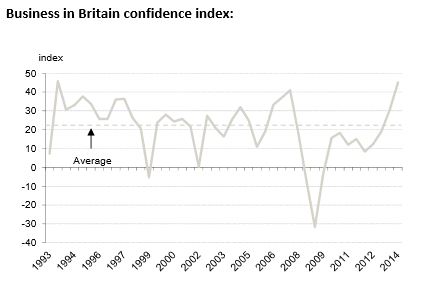 (Source: Lloyds Banking Group)
Sales, orders and profits prospects looking good
The three key indicators of business confidence – expectations for profits, sales and orders during the next six months – are all rising, the report shows. They are well above their long-term averages and signal a strong first half for 2014 in the UK.
Fifty-five percent of all firms said they expect increased orders during the first half of 2014, while 6% expect them to fall.
Sixty percent of companies believe their sales will rise during the same period. In all three cases, expectations for orders, sales and profits, responses are much more optimistic than they have been for a very long time.
More companies today expect to be able to raise prices over the next six months than at any time since 2008. Higher prices mean greater profits.
Expectations for export orders also more optimistic
Forty-eight percent of companies believe their export orders will increase during the next six months, compared to 23% in July 2013. Only 6% expect foreign sales to go down.
Forty percent of respondents expect to sell more to Europe compared to just 9% who forecast lower volumes, an overall positive balance of 31% versus 10% six months ago.
The Asia-Pacific region is seen as the area with greatest export potential. A balance of 36% believe their Asia-Pacific exports will grow considerably, a balance of 35% see growth in the Middle East/Africa market, and just 26% in North America.