The UK economy grew by 0.2% in the final three months of 2018, according to the Office for National Statistics (ONS), after 0.6% growth in the previous three-month period.
The ONS said in its "GDP monthly estimate, UK: December 2018" that declines in factory output, car production and construction contributed to the slowdown.
Production output fell by 1.1% – the steepest decline since the fourth quarter of 2012 – including a 0.9% drop in manufacturing output. In the construction industry, output fell by 0.3%.
Growth in the fourth quarter was driven by professional, scientific, administration and support services within the services sector.
Business investment fell by 1.4% in the final quarter of 2018, marking the fourth consecutive quarter of decline.
Business investment has been affected by a number of factors, including uncertainty over the Brexit outcome – the UK is now just a little over six weeks from its due date to leave the European Union.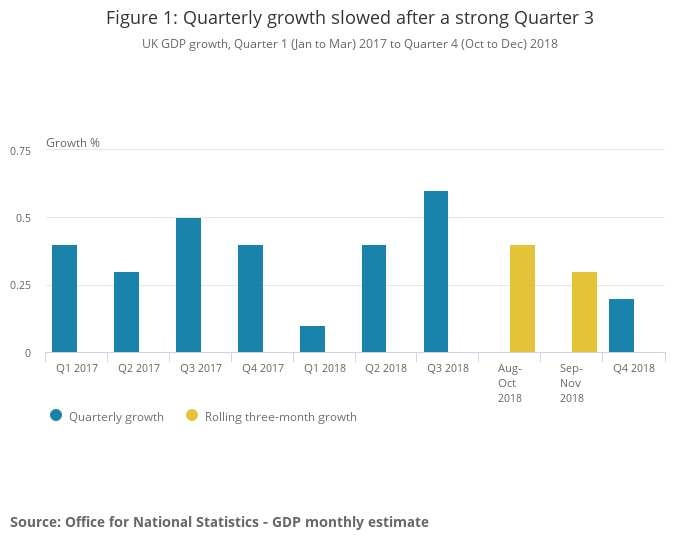 Commenting on the GDP figures, ONS Head of GDP Rob Kent-Smith said: "GDP slowed in the last three months of the year with the manufacturing of cars and steel products seeing steep falls and construction also declining. However, services continued to grow with the health sector, management consultants and IT all doing well."
UK GDP growth by month

| | October 2018 | November 2018 | December 2018 | Quarter 4 2018 |
| --- | --- | --- | --- | --- |
| GDP | 0.2% | 0.2% | -0.4% | 0.2% |
| Index of Services | 0.3% | 0.3% | -0.2% | 0.4% |
| Index of Production | -0.3% | -0.3% | -0.5% | -1.1% |
| Manufacturing | -0.5% | -0.1% | -0.7% | -0.9% |
| Construction | -0.4% | 0.1% | -2.8% | -0.3% |
| Agriculture | 0.5% | 0.5% | 0.4% | 1.1% |