UK house price rises slowed in August to their lowest rate in a year, according to the RICS UK Residential Market Survey published by the Royal Institution of Chartered Surveyors.
The Survey's monthly house price balance declined to +40 in August, its lowest level since August 2013. July's figure was revised down marginally to +48.
For the first time since September 2012, the number of agreed sales dropped. August also posted the second successive month of fewer buyer inquiries.
However, the Royal Institution of Chartered Surveyors (RICS) said the overall picture suggests the market is becoming less volatile. It expects more stable prices over the next three months.
The survey found that a net balance of 9% of surveyors now expect prices to rise rather than fall, compared to 51% in January.
The authors of the report believe consumer expectations of a possible increase in interest rates may have contributed to the decline in buyer interest and the total number of agreed house sales.
The respondents also suggest that MMR (Mortgage Market Review), plus a growing shortage of conveyancers (lawyers who specialize in the buying and selling of houses), are adding from two to four weeks onto the time it takes to finalize a transaction.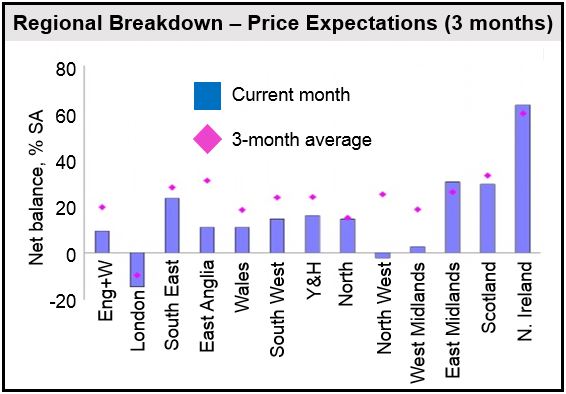 (Data source: Royal Institution of Chartered Surveyors)
Housing market by regions
The steepest decline in buyer interest was seen in the West Midlands, London and the South West.
In Northern Ireland and Scotland, however, buyer inquiries remained strong, with a net balance of 52% and 43% respectively.
The chronic shortage of housing across the country persists. There are some signs, though, that in London, which has the worst scarcity problem, instructions have started to pick up.
Surveyors still expect house prices to rise over the next 12 months, by 2.3% nationally, a lower prediction compared to the 3.7% forecast at the beginning of the year. In Northern Ireland, prices are expected to increase by 3.9%.
RICS wrote regarding London:
"Buyer activity in the London market has been particularly pronounced but that is in a sense consistent with the move to a more sustainable market in the capital."
In the rest of the country the market overall is showing more resilience. This could be because in some areas the recovery has only recently taken hold "and affordability is less stretched."
Survey respondents now expect prices to rise more rapidly outside London than in it over the next twelve months.
On October 30th, the Nationwide Building Society reported a slowdown in the growth of house prices.