UK house prices fell by 0.2% after 16 successive months of increases, according to a report published on Tuesday by lender Nationwide Building Society. In August, house prices had risen by 0.8%.
House prices increased by 9.4% from September 2013 to September 2014, the smallest annual rise since February 2014. August's year-on-year growth rate reached 11%.
The UK's residential property market has been slowing down since early summer, when regulators made lenders carry out more stringent affordability checks on mortgage candidates, and placed a limit on how much could be borrowed.
On Monday, the Bank of England reported that the number of mortgage approvals had fallen to 64,212 in August, compared to the average of 65,738 each month over the previous six months.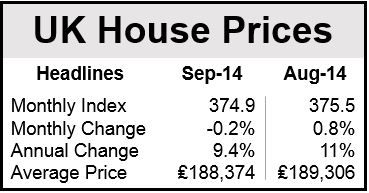 (Data Source: Nationwide Building Society)
Quarterly residential property price growth fell to its lowest level since the middle of 2013, declining to 1.5% during the quarter ending in September compared to 2.2% in the quarter ending in August.
Nationwide predicts that house price growth will slow down further during the last quarter of this year.
Chief Economist at Nationwide, Robert Gardner said:
"While September saw a slowing in house price growth, the picture on a quarterly basis is still relatively strong, with all thirteen UK regions recording annual price gains. There remains significant regional variation however, with the South of England still seeing the strongest rates of growth."
"Annual house price growth in London slowed somewhat, from 25.8% in Q2 to 21% in Q3. Nevertheless, at £401,072, average prices in the capital reached a record high, 31% above their 2007 peak. In the UK as a whole, prices are around 2% above their pre-crisis peak (excl. London they are less than 1% above their 2007 peak)."
The Centre for Economics and Business Research forecasts a house price increase of 7.8% for 2014, followed by a decline of -0.8% in 2015.