UK manufacturing growth in December weakened to a one-and-a-half year low. New orders were sluggish while price pressures also remained subdued, according to a new Markit Economics report.
December input costs declined at a faster pace, while selling prices rose more moderately.
The seasonally adjusted Markit/CIPS PMI (Purchasing Manager's Index) fell slightly in December to 52.5 compared to 53.3 in October and November.
Over the fourth quarter as a whole the index stood at 53.0, which was marginally lower than the third quarter's 53.1. Even so, it was the weakest quarterly growth in 18 months.
Any reading above 50 suggests growth.
Despite December's softer growth figures, manufacturing in the UK expanded for 22 consecutive months. December's expansion remained broad-based by sector, with greater activity posted in both output and new business across the consumer, intermediate and investment goods industries.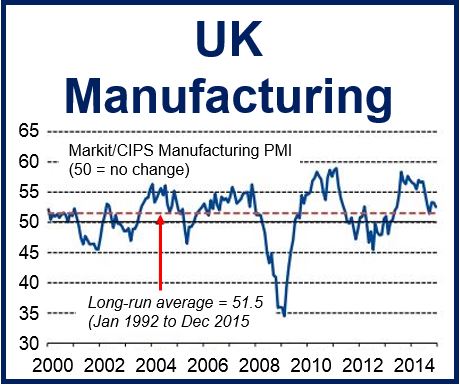 Source: Markit/CIPS UK Manufacturing PMI.
According to Markit Economics, companies said that product promotion, new customer orders and improved client confidence all contributed to growth in total new orders.
Domestic demand strong, Eurozone mixed
The authors of the report pointed out, however, that new contracts were mainly driven by the domestic market, while the trend in new export orders remained "lackluster".
After declining in October and November, new orders from overseas clients remained unchanged in December. Demand from the Middle East and North America improved. There were mixed reports regarding business from the Eurozone, with some manufacturers posting gains while others registered declines.
Price pressures in December remained subdued.
Markit's Senior Economist Rob Dobson said:
"The latest survey provides further evidence of the ongoing slowdown in the UK manufacturing sector, with output and new order growth easing to their second-weakest rates during the past year-and-a half. Despite this end of year tapering, the sector still performed well over 2014 as a whole, with growth averaging at its highest since 2010."
"The positives to come out of the December readings are the continued growth, further solid increases to workforce numbers, a supportive domestic market that is driving new contract wins and the broad-base of the upturn across the consumer, intermediate and investment goods industries. The main weak spot remains exports, with overseas new order inflows stagnating amid weaker economic growth in key markets and the ongoing lethargy of the euro area."
"The price indices suggest that inflationary pressures remained contained, as input costs fell sharply and selling prices edged only modestly higher in December. Waning inflationary pressures in industry will therefore continue to provide some leeway for the Bank of England to hold off from raising rates if slower global growth persists."
The CBI Industrial Trends Survey, which included data on 485 manufacturing companies, also reported growth for December 2014. The report added that the next three months are expected to see continued expansion. Motor vehicles and transport equipment did particularly well in December, posting a nine-month high.