UK March retail sales increased 4.2% compared to March 2013 and by 0.1% versus February 2014, according to figures published by the Office for National Statistics. Retails sales in Q1 2014 increased by 3.8% compared to Q1 2013.
UK March retail sales figures were higher than analysts had predicted.
Non-food retail up, food down
Non-food retail sales increased 9.6% year-on-year, the highest annual rise since April 2002. Officials say the steep increase was partly due to the negative effects of severely harsh winter conditions early in 2013, when the second coldest March ever was recorded, in contrast to this year's relatively mild March.
Sales at food stores, on the other hand, declined year-on-year by 2.3%, the largest annual fall since April 2013 (2.9%).
The amount spent in the retail industry in March 2014 grew by 3.9% compared to the same month last year and 0.3% versus February 2014.
According to non-seasonally adjusted data, the average weekly spend in March 2014 in the retail industry was £6.7 billion versus £6.6 billion in March last year and £6.5 billion in February 2014.
Fuel pushed prices down
March 2014 average prices showed a fall of 0.5%, with fuel being the main driver (falling by 5.8%). According to the Office for National Statistics "These data are consistent with the Consumer Prices Index (CPI) which was published on 15 April 2014."
Online spending grew by 7.1% in March 2014 compared to the same month last year and by 1.4% versus the previous month.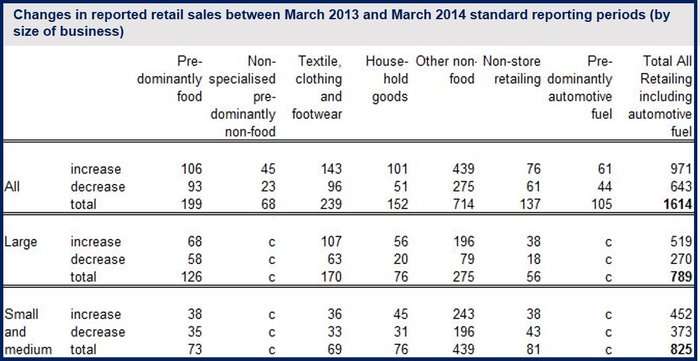 (Source: Office for National Statistics)
In an interview with the BBC, Jeremy Cook, chief economist at currency brokers World First, said "Thoughts had been that consumers would take a slight pause in March from retail – a breather before the late Easter spending spree, but sales of clothing increased by 3.1% on the month and took the overall average into positive territory."
UK household finances improving
Most economists say the better-than-predicted UK March retail sales reflect a fundamental improvement in household finances which should drive sales during the rest of 2014.
Consumer confidence in the UK has improved significantly as unemployment falls, job vacancies increase, wages rise and inflation remains low.
March retail sales in the US registered its biggest growth since September 2012, rising 1.1% compared to February.