A UK GDP estimate by the National Institute of Economic and Social Research (NIESR) says that the economy is nearly at its pre-financial crisis peak level. UK GDP was just 0.17% below its level in the first quarter of 2008, just before the global crisis struck.
According to NIESR' monthly GDP estimates, output increased 1% in the three months ending on April 30th, 2014, after the economy grew by 0.8% during the first quarter of the year.
In a separate report, the Office for National Statistics also informed that the United Kingdom's economy grew by 0.8% in Q1 2014. It was mainly driven by the private sector which registered 0.9% growth. It was the fifth successive quarter of growth, the longest non-stop period of expansion since the financial crisis.
Pre-crisis peak reached within a month
The UK May GDP estimate forecasts pre-crisis peak levels of economic activity will be reached within the next month or so.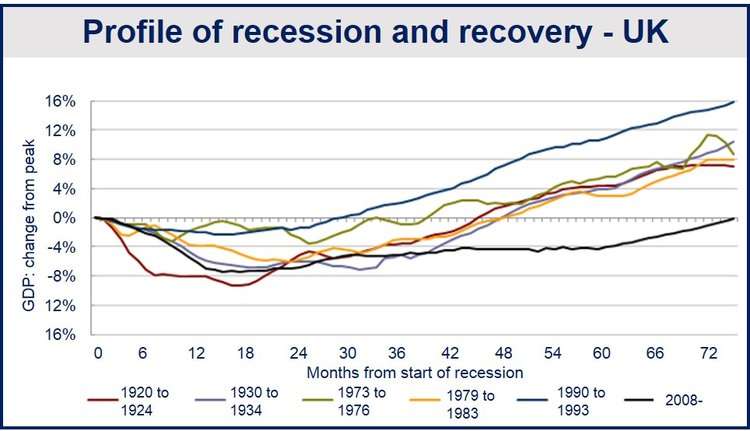 After very slight growth in 2012, UK economic growth picked up rapidly, and is now running at nearly 3% year-on-year. NIESR forecasts 2.9% GDP growth for 2014, higher than the 2.5% predicted for the year in February.
Although the UK economy will reach its previous 2008 peak level soon, income per capita will need another three years to catch up completely. GDP growth for 2015 through 2017 is forecast to expand by 2.4% annually.
While wages are forecast to grow in 2014, they are doing so from a point 6% below their 2009 levels, and will not catch up completely for another four years or so, the authors wrote.
Unemployment has fallen a full percentage point over the last 12 months. NIESR expects it to go down to 6% from 2015.
Productivity has fallen behind
Productivity has fallen sharply over the past few years – this is reflected in robust employment growth combined with economic weakness. The authors wrote "Indeed, since 2008 UK productivity performance has closely tracked that of Italy. Even the return of GDP growth, however, has not yet resulted in significant productivity increases."
Productivity needs to improve for medium- or long-term economic growth, otherwise as soon as spare capacity is absorbed GDP expansion will slow right down. "Productivity is the main, if not the only, driver of real wages and overall prosperity," the authors wrote. Slowing productivity is not only a problem in the UK. In the United States productivity improved annually by 2.5% between 1990 and 2005, and then slowed right down.
The report identified very few signs of domestic inflationary pressures, with growth in wages remaining low. Inflation is forecast to stay very close to the Bank of England's target of 2% annually.
NIESR points to considerable uncertainty surrounding monetary policy on several dimensions:
When interest rates will start rising again.
The new equilibrium level, which the Bank of England has said is probably materially below 5%.
How to exit quantitative easing, "in particular whether this is used as an active policy tool."
The report forecasts a continued slow reduction in net public sector borrowing in 2014, which will pick up in subsequent years, and reach an absolute surplus within the next four years. There will be a peak in the debt-to-GDP ratio in 2015-2016.
The authors describe the UK's trade performance as "disappointing". The current account deficit has run at approximately 4% of GDP since the middle of 2012, "although improving subsequently as the global economy continues to strengthen."