The UK motor industry will suffer badly if Britain leaves the European single market following a 'Hard Brexit', says the Society of Motor Manufacturers and Traders (SMMT). Outside of the EU single market, the UK motor industry would probably suffer from dramatically reduced investment, much lower export export sales, and problems recruiting skilled workers.
Mike Hawes, CEO of SMMT, told Simon Jack, BBC business editor, that the UK motor industry was built on being part of the European trading bloc, i.e. the European Union (EU).
Mr. Hawes, who has often warned about the negative consequences of Brexit for the British motor industry, was speaking while attending the Paris Motor Show (French: Mondial de l'Automobile), also known as the Mondial, one of the world's most important auto shows, which this year is being held in Paris Expo Porte de Versailles.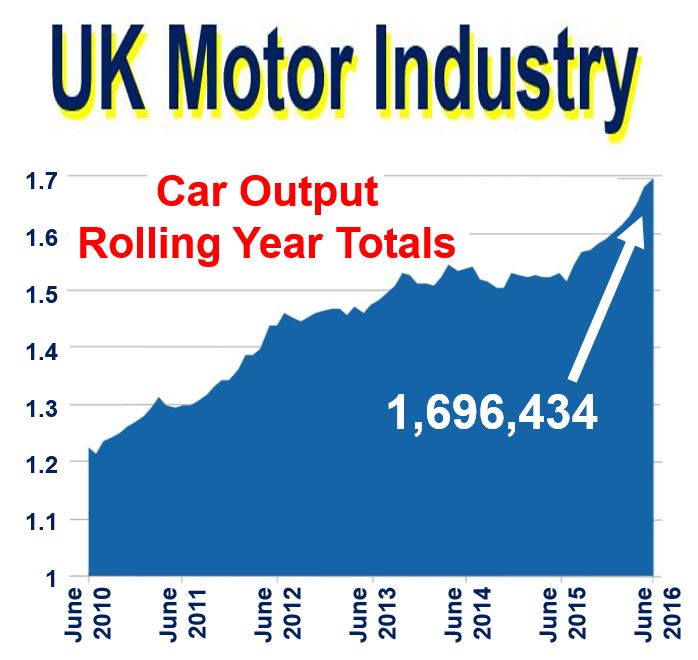 Figures are in millions. The UK motor industry has done extremely well thanks to being a member state of the European Union, says the SMMT. (Image: smmt.co.uk)
Future of UK motor industry worries SMMT
Mr. Hawes said:
"Don't be blinded by the good news that you're seeing not just around our sector but around business in general. We're very concerned that the future state of the automotive industry and the success could be jeopardised if we're not in the single market."
---
---
The UK motor industry reported its eleventh successive month of growth in June, according to figures released today by SMMT. Production increased by 10.4% to 158,641 units – this is the highest monthly figure since 1998, when volumes hit 172,232.
Britain's motor industry has had the best first-half year for 16 years, with a total of 897,157 cars rolling off the production line – thirteen percent greater than the same period last year. Billions of pounds of earlier investments in new products are now coming to fruition, says SMMT.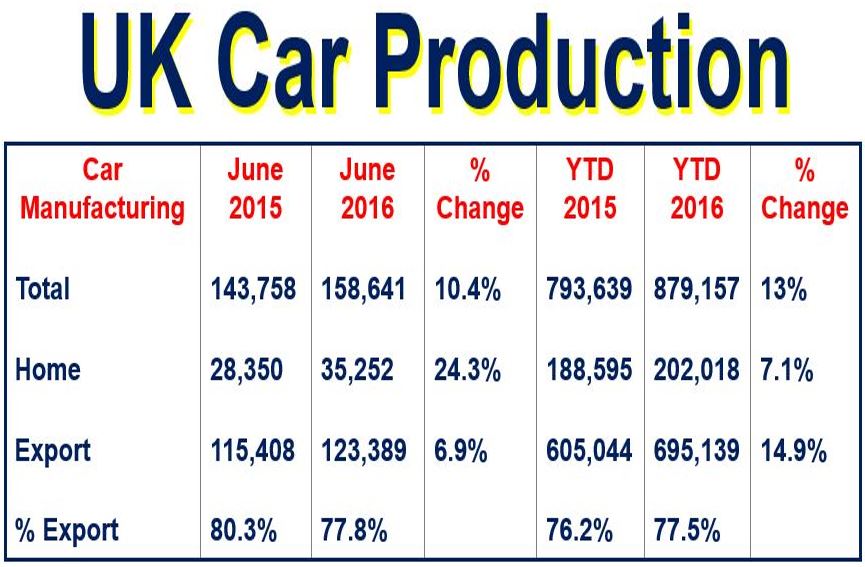 Most of the cars manufactured in Britain are exported. (Image: smmt.co.uk)
UK motor industry export led
The majority of cars built in Britain (77.8%) are exported to over one hundred overseas markets – most of them are delivered to the rest of the EU.
On its website, SMMT wrote:
"The sector is part of a complex, highly-integrated European and global supply chain, and depends on significant cross border trade in components. While local content of UK-built cars is growing, 59% of vehicle components are imported, predominantly from the continent."
---
---
Hard Brexit bad for UK motor industry
However, the SMMT warns that this relationship with the UK motor industry's largest market is now uncertain. A survey of SMMT members shows that 57.1% of respondents believe that a Hard Brexit will have a negative impact on their business, 8.3% predict it will be positive, while 27.7% are uncertain.
Brexit means Britain Exiting the European Union. There are two types:
– Hard Brexit refers to total separation from the EU and control over immigration at all costs, even if that means losing free access to the EU market.
– Soft Brexit means leaving the EU but keeping certain features, such as a free trade deal.
Just over sixty-eight percent of respondents, including commercial enterprises of all sizes, from component suppliers to car manufacturers and importers, are most concerned about the negative effects of tariffs, custom charges or other barriers to trade between the UK and the European single market.
A total of 63.6% of respondents said they are worried about the loss of access to the EU-wide skills market, 66.1% expressed concern regarding being bound by regulations in their prime export market over which they won't have any say, while 66.4% said they were very worried about losing access to EU trade deals.
---
Here's our Great British line up of 8 UK-built cars coming together to showcase #UKAutomotive @GREATBritain pic.twitter.com/0FU8zYUIae

— SMMT (@SMMT) September 28, 2016
---
UK motor industry a large employer
The UK motor industry has grown considerably over the last few years and today employs 169,000 people, including a large number of skilled EU nationals recruited to fill jobs which the local labour force could not meet.
More than half of SMMT members (59.7%) said they are concerned about the future status in the UK of these highly-skilled workers from other parts of the EU.
A decline in sales as a result of Brexit worried 52.7% of respondents, and 46.1% are concerned that investment will plummet. The larger companies are especially worried about investment in the UK motor industry.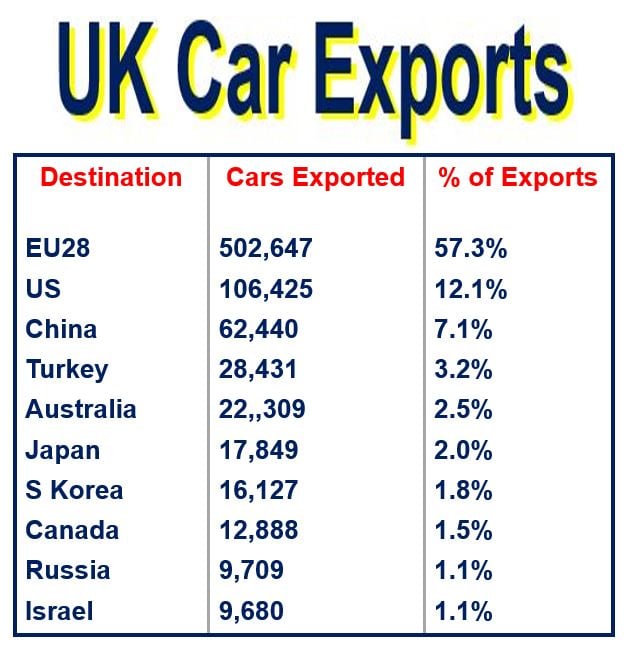 Most of the automobiles made in the UK are exported to the European Union member states (EU28). (Image: smmt.co.uk)
Mr. Hawes said:
"UK Automotive is globally competitive with overseas demand for British made products increasing, not least in Europe which is by far our largest market. The latest increase in production output, however, is the result of investment decisions made over a number of years, well before the referendum was even a prospect."
"These decisions were based on many factors but, primarily, on tariff-free access to the single market, economic stability and record levels of productivity from a highly skilled workforce. To ensure the sector's continued growth, and with it the thousands of jobs it supports, these must be priorities in future negotiations."
UK Motor Industry – 10 Facts
The information below came from the SMMT.
1. A new car rolls off production lines in the UK every 16 seconds.
2. Britain exports about 80% of all the cars it manufactures. Exports are at record levels, with 1.2 million consumers globally buying a UK car in 2015.
3. The UK produces about 2.5 million engines annually – over half of them are exported.
4. Britain is home to thirteen R&D and six design centres.
5. Britain is now third in the EU – after Germany and Spain – in terms of car production output, and 10th globally. The UK motor industry has the highest productivity levels per worker in Europe.
6. The automotive industry in the UK could be worth more than £51 billion to companies operating in the country by 2030.
7. The British electric car markets is one of the fastest-growing in the EU. In 2015, demand grew by over 50%.
8. Britain imports 86.5% of the 2.63 million new automobiles sold within the country – 81.5% of them came from the EU – offering British consumers a massive choice.
9. Ninety percent of the world's automotive suppliers operate in the UK.
10. Britain's new car market is one of the world's most diverse. A total of 2.63 million new vehicles were registered last year, second only to Germany (in the EU).
Video – Tata Jaguar shows new SUV
In its 91-year history, it is the first time Jaguar produces an SUV. It is sure to upset a few of the traditionalists at the Paris Motor Show this year. It is a controversial move, but an obvious one as well, considering that the company is twinned with Land Rover.