The UK services sector grew more than expected in November, suggesting that economic growth may not be slowing down by as much as analysts had thought.
The Markit/CIPS Services PMI (purchasing managers index) increased to 58.6 in November compared to 65.2 in October. Any reading above 50 points to growing activity.
The index grew by a higher rate than at any time over the last twelve months and has been above the 50-mark for nearly two years.
November's survey indicates strengthening activity growth in the services sector amid reports of stronger demand and increasing volumes of new business. Capacity was thus under pressure, the authors informed, leading to further increases in levels of work outstanding.
Services companies responded by expanding their workforces.
The survey also found that higher wage bills were driving up overall operating expenses, which were mostly offset by declining fuel costs. Output charges remained the same, with strong competition keeping prices down.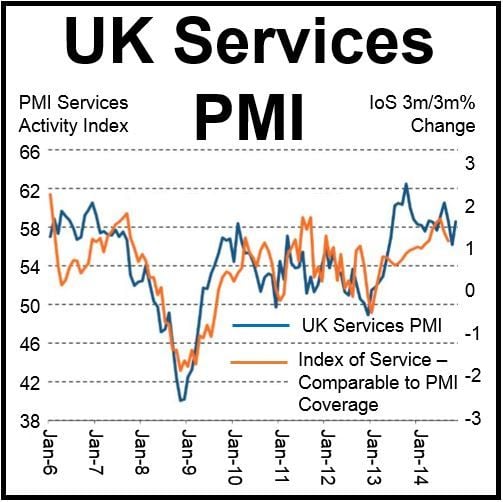 Source: "Markit/CIPS UK Services PMI," Markit Economics.
Survey respondents said they had been able to gain business from existing and new clients. Many said they were experiencing greater difficulties in coping with higher workloads in November. Backlogs have increased monthly since the beginning of 2013.
Capacity constraints led to the fastest growth rate in new hiring since July. The services sector has increased its workforce every month since January 2013.
Forty-eight percent of respondents said they expect to see more business activity and plan to hire new staff over the next twelve months.
Markit Economics Chief Economist, Chris Williamson, said:
"Faster growth of services activity brings welcome news that fears of a potentially sharp slowdown in the economy look overplayed. The upturn in the service sector offset slower growth of factory production and construction activity in November, lifting the overall pace of economic growth from October's 16-month low."
"The survey data available so far for the fourth quarter are signalling a GDP rise of 0.6%, down from 0.7% in the third quarter but still an impressively robust pace which would mean the economy grew 3.0% in 2014. Employment continued to rise strongly in services as well as manufacturing and construction, meaning the jobless rate looks set to fall further from the current level of 6.0%. There are also signs that wage growth is picking up alongside the improving labour market, which should help boost household incomes and consumer spending."
"Fortunately, higher staff costs are being countered by falling fuel prices, giving policymakers greater scope to hold off from raising interest rates amid the ideal combination of robust economic growth and low inflation."
Markit Economics reported on Monday that UK manufacturing also expanded in November.