The UK trade deficit shrank in November thanks to cheaper oil prices. The Office for National Statistics informed on Friday that the country's deficit in goods and services fell to £1.4 billion in November compared to £2.2 billion in October.
A trade deficit – when the value of imported goods and services exceed those of exports – is the opposite of a trade surplus.
This was the smallest trade deficit since June 2013, when it stood at £0.4 billion.
Although the final figure may seem encouraging, it was due to a decline in imports and not export growth. Imports dropped by £1 billion to ₤43.4 billion – £0.7 billion of the decline was due to lower oil imports. Between October and November, exports declined by ₤0.2 billion to ₤42 billion.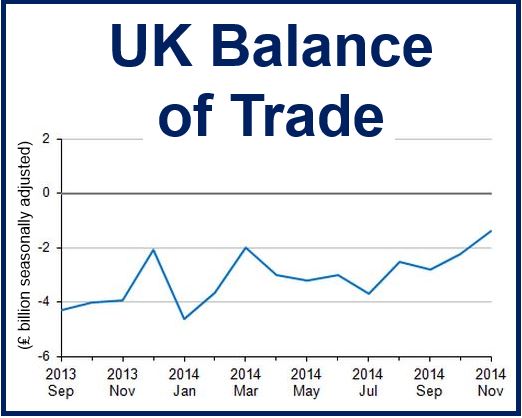 Source: "Summary: UK Trade, November 2014," Office for National Statistics.
Since August 2014, the price of Brent crude, the major benchmark price for purchases of oil worldwide, has fallen by more than 50%. The decline has been the result of rapidly expanding production of shale oil in the United States, plus weaker demand from emerging markets, especially from China.
The UK's deficit in goods in November came in at £8.8 billion, while the services surplus was £7.4 billion. The trade gap represents how much the country exports (goods and services) minus how much it imports. If the latter figure is higher there is a trade deficit, if it is lower there is a trade surplus.
November exports of goods declined by £0.1 billion to £24.4 billion, reflecting a drop in the exports of fuels of £0.3 billion. The ONS wrote "The decrease was mainly attributed to oil exports (down £0.2 billion) and, in particular, oil exported to EU countries."
The ONS also informed today that total production fell by 0.1% from October 2014 to November 2014.
Trade in the months ending November 2014
In the 3-month period ending November 2014, the trade in goods deficit shrank by £2.5 billion to £29.2 billion. Exports rose by £2 billion to £73 billion, of which £1.1 billion was attributed to exports of erratics, which are defined as ships, aircraft, precious stones and silver.
Imports for the 3-month period ending November 2014 fell by £0.5 billion to £102.2 billion.
Over the same three-month period, the UK posted its largest ever trade deficit (in goods) with Germany (£7.8 billion), due to a fall in exports and a marginal increase in imports.
There is concern that the British economy may be losing steam. According to Markit Economics, manufacturing growth slowed to a 1.5-year low in December. In December, the Office for National Statistics informed that GDP growth was 2.6% and not the 3% previous estimate for the period between Q3 2013 and Q3 2014.