Unemployment in the United Kingdom declined by 63,000 to 1.96 million in the Aug-Oct quarter, the Office for National Statistics (ONS) announced on Wednesday. It was the smallest 3-month fall in a year, suggesting that employment growth has probably peaked.
At 6%, the UK's unemployment rate is at a six-year low. In the Aug-Oct period in 2013, unemployment stood at 7.4%.
Earnings excluding bonuses increased by 1.6% on a quarterly basis, and by 1.4% including bonuses.
Since 2010, wages had failed to keep up with inflation until the last quarter. Yesterday, the ONS announced that inflation in November had dropped to a 12-year low of 1%, driven mainly by a steep fall in global oil prices.
The margin between wage growth and inflation is finally starting to widen, which will be fantastic news for the government, which faces a general election in May 2015. Telling the electorate that the economy is growing, unemployment is low, and purchasing power is increasing is a strong campaign message.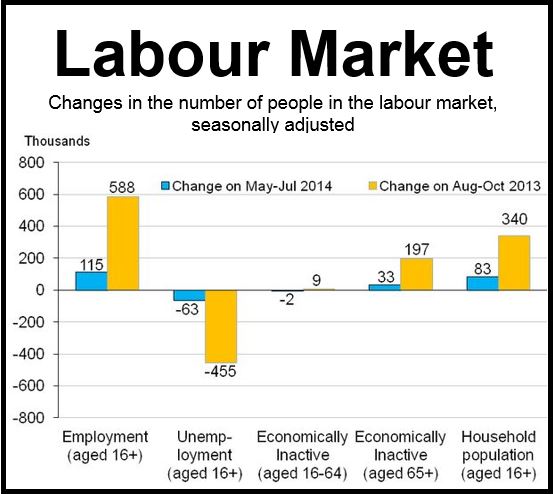 Source: Office for National Statistics.
The Bank of England warned in November that for the next few months inflation would continue to be very low, probably below 1%.
Prime Minister David Cameron wrote in a tweet today:
"Employment is at a record high & average earnings are rising faster than inflation. More to do, but our long term economic plan is working."
In the Aug-Oct period, there were 30.80 million people in employment in the UK, 115,000 more than during the previous 3-month period. The proportion of people aged 16 to 64 in work rose to 73% from 71.8%, the ONS reported.
The employment rate was highest in the East and South East of England (76.5%) and lowest in Wales (68.5%). The North East had the highest unemployment rate, at 9.1%, while the lowest was in the South East (4.6%).
There were 26,900 fewer people claiming Jobseeker's Allowance in November (900,100 total).