The US Employee Confidence Index is split three ways with 33% of workers commenting that the economy is strengthening, 33% saying it is remaining the same, while 35% think it is weakening.
At 55.5, the Index slipped 1 point in May compared to April.
Regarding the job market, 26% of respondents think more jobs are currently available, while 46% say there are fewer jobs around.
Thirty-four percent of US workers say they will probably look for another job during the next twelve months, compared to 51% who think this is unlikely.
Overall cautious optimism
Jim Link, Chief HR Officer, Randstad North America, said:
"An overall tone of cautious optimism and varied interpretations of key economic measures among economists may be contributing to mixed degrees of confidence amid today's workforce. While recent labor numbers have been increasingly higher and more encouraging, they may not have truly materialized in any significant way for most workers."
"Furthermore, there have been numerous false starts for jobs and the economy over the last five years, therefore tempering any immediate enthusiasm surrounding positive job reports."
The stop-and-start hiring pattern seen recently has left a large number of employers uncertain about the sustainability of the economic rebound.
Mr. Link believes their reticence regarding aggressive hiring and investments will probably dissipate if and when 288,000 new jobs are added each month, as occurred last month. Until that happens, both employees and workers will continue being cautiously optimistic.
Harris Poll carried out the study on behalf of Randstad. A total of 1,138 working US adults aged 18+ years responded.
US economic and jobs outlook depends on location
Employee confidence levels and how they perceive the job market differ greatly depending on where they work and live. Below are some of the report's findings:
The West – employees are more optimistic regarding the economy's strength as well as the job market. Thirty-eight percent of respondents believe the economy is strengthening and 53% believe they can find a new job.
The Northeast – workers here have the lowest confidence nationally regarding their own job security. Twenty-one percent of respondents believe they will probably lose their job within the next 12 months (vs. 15% nationally). Thirty-six percent say they will look for another job during the coming year.
The Midwest – employees here appear to be the most secure. Seventy-nine percent think it is unlikely that they will lose their job during the next twelve months. Fifty-six percent of them said that they are unlikely to look for a new job over the next year (the highest percentage in the country).
The South – workers are the least confident nationally about the economy and the job market, with just 27% believing the economy is becoming stronger. Only 53% say they have confidence in the future of their current employer.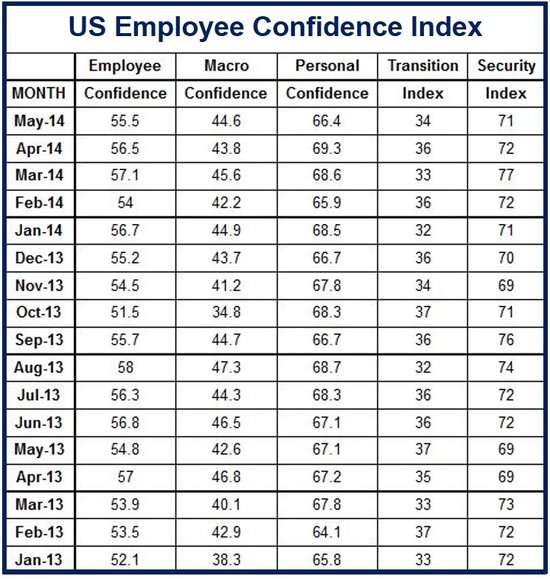 (Source: Randstad US)