The Markit US Manufacturing Purchasing Managers' Index (PMI) came in at 55.9 in October, down from September's 57.5. This does not mean there was a contraction – any reading above 50 signifies growth.
October's business conditions for manufacturers grew at their slowest pace in three months.
The survey found that October's more moderate performance was mainly due to weaker export sales. Job creation, however, remained 'resilient'.
Input cost inflation in October was the weakest in seven months, while factory gate charges increased at a slower rate.
Output growth in October slowed down to a seven-month low, "but was still stronger than the post-crisis trend," the authors wrote.
Sluggish new business gains also contributed to the weakest rise in backlogs of work since January.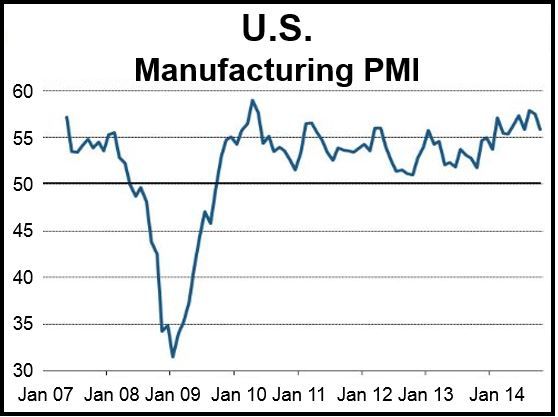 (Source: Markit US Manufacturing PMI)
The fast pace of job creation continued in October at nearly the same rate as in September.
Manufacturers of consumer goods registered the best upturn in business conditions in October, while investment goods producers saw the slowest gains in new business and volumes of output.
Markit's Senior Economist, Tim Moore, said:
"October's survey highlights the revival in US manufacturing conditions remains on track. Production levels expanded at an impressive rate by international standards and overall momentum is still stronger than the post-recession trend."
"However, the latest figures indicate that the recovery has lost some intensity at the start of the fourth quarter, reflecting subdued export demand from the euro area and key emerging markets. Meanwhile, a solid rate of manufacturing job creation was sustained in October, which provides an early indication that domestic labor market conditions have continued to strengthen through the final quarter of the year."