US wine consumption is the highest in the world, overtaking France in 2013 for the first time, says the International Organization of Vine and Wine (OIV). Americans consumed 2.9 billion liters (29.1 million hectoliters) in 2013; a 0.5% increase compared to 2012.
Wine consumption in France dropped by 7% in 2013 to 2.8 billion liters. However, as the US has six times the French population, wine consumption per capita in France is still much higher.
In 2011, the average French person consumed a little over one bottle of wine each week, compared to one bottle every six weeks in the US.
The Vatican has the highest wine consumption per head of population, says the Wine Institute, whose figures show that the US has been the largest wine market in the world since 2010.
Wine consumption a relatively new trend in the US
According to OIV director general, Jean-Marie Aurand, wine consumption has been historically high in countries such as Spain, Italy and France.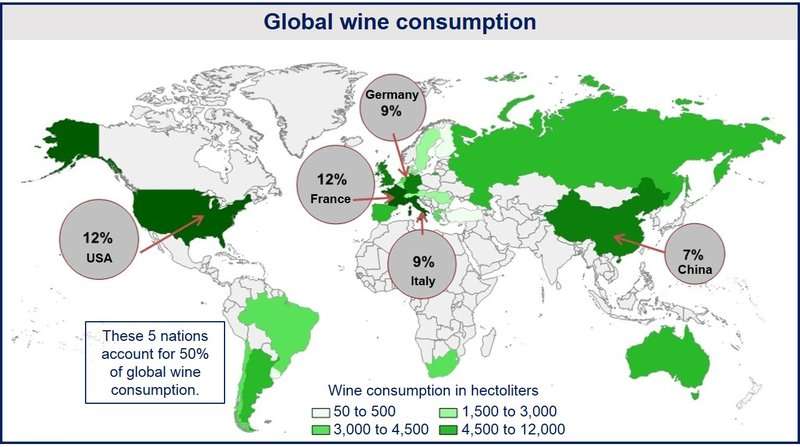 (Source: International Organization of Vine and Wine)
In the US, regular wine consumption is a more recent habit and people are starting at a lower per-capita level, "so they have a tendency to consume more and more, notably quality wine," Aurand said.
Global wine consumption fell 1% in 2013 compared to 2012. China, which has been consuming wine in growing quantities since the turn of the century, saw consumption decline by 3.8% in 2013.
Consumption in some Mediterranean countries, such as Italy and Spain has also gone down.
In the major South American markets – Argentina, Chile and Brazil – wine consumption increased in 2013 versus 2012.
Worldwide wine market trends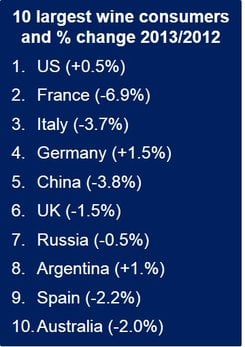 Production fell in 2012, which was partly responsible for the -2.2% fall in export volumes in 2013. Even so, world trade in terms of value grew by 1.5% in 2013 to €25.7 billion ($35.25 billion).
In value terms, sparkling and bottled wines accounted for most of the global wine market:
71% were still wines (€18.3 billion or $25.1 billion).
17% were sparkling wines (€4.3 billion or $5.9 billion).
Argentina may see production fall by 20% this year, while Chile's harvest could be from 10% to 20% down. The OIV also forecasts a slight fall in production in Australia.
Output in the southern hemisphere this year could fall to 49-53 million hectoliters in 2013, a decline of 10% compared to 2013.
French wine exports dropped 3% in volume in 2013, mainly because of a low 2012 harvest, keeping the country behind Spain and Italy in the global ranking of wine exporters. However, in value terms France was number one.
In an interview with Reuters, Aurand said:
"Things should move a different way in 2014 when you look at 2013 output, especially for Spain which has a record harvest."