A Vodafone Ono €7.2 billion ($10 billion, £6 billion)  takeover, including debt, has been agreed, a deal Vodafone says is part of its aim at expanding its interests in the European Union. The acquisition will put Vodafone in a stronger position to compete against Orange, Telefónica and other major rivals. The deal will need to be approved by regulators.

Vodafone Group plc, a British telecommunications multinational, is the second largest mobile telecommunications company worldwide, according to subscribers (543 million) and revenue.
Grupo Corporative ONO S.A. is a private equity-owned Spanish entertainment and broadband communications company that delivers integrated Internet, TV and telephone services to residential customers. ONO has more than six million users and 3.7 million contracted customers.
Vodafone has found it hard to compete in Spain with Jazztel and Telefónica, as well as other firms offering combined high-speed home Internet + pay-TV + mobile-phone services. Vodafone's Spanish mobile phone unit has seen its service revenue decline, increasing churn rates (percentage of subscribers dropping out) and diminishing margins.
ONO shareholders had been planning to float the company on the Madrid stock exchange before entering negotiations with Vodafone.
Vodafone ONO deal an attractive value creation opportunity
Vittorio Colao, Vodafone Group Chief Executive, said:
"The combination of Vodafone and Ono creates a leading integrated communications provider in Spain and represents an attractive value creation opportunity for Vodafone. Demand for unified communications products and services has increased significantly over the last few years in Spain, and this transaction – together with our fibre-to-the-home build programme – will accelerate our ability to offer best-in-class propositions in the Spanish market."
"We look forward to welcoming the management and employees of Ono to Vodafone and working together to serve our customers across Spain".
This Vodafone ONO takeover is not the British company's first move towards expansion in Europe. Six months ago, Kabel, a German cable operator was acquired.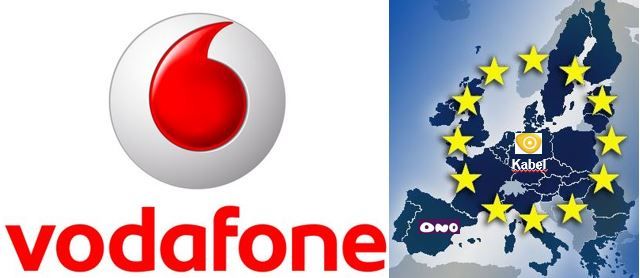 Vodafone plans to expand rapidly into the European Union.
Vodafone on European acquisition path
Of the £84 billion ($140 billion, €100 billion) received after selling its stake in Verizon Wireless, Vodafone says it plans to spend up to £25 billion ($41 billion, €29.8 billion) expanding its presence in European networks.
According to ONO's chairman of the board of directors, José María Castellano Ríos, the enlarged company will help enhance innovation in Spain's telecommunications industry.
Castellano Ríos said:
"This transaction reflects Ono's attractive position as Spain's leading provider of high speed broadband, premium pay-TV and fixed communications. As part of Vodafone, Ono will continue to seize new growth opportunities and deliver the quality that our customers expect. The enlarged business is also expected to drive innovation in the Spanish telecommunications industry."
Benefits of Vodafone ONO acquisition
According to Vodafone, the takeover offers the following benefits:
ONO is a great standalone business – it is Spain's largest NGN (next generation network) operator "with 7.2 million homes released to marketing,", i.e. 41% of all households in the country. ONO provides customers with Internet speeds faster than 200 Mbps and the state-of-the-art pay-TV service through TiVo.
Accelerates Vodafone's European market strategy – the deal provides Vodafone with immediate access to 7.2 million homes in Spain's unified communications products and services market.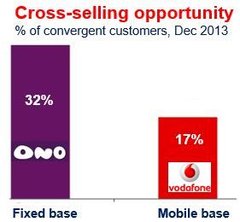 The Spanish company's network "is complementary to Vodafone's fibre-to- the-home ("FTTH") build programme which will be refocused towards areas where Ono has limited or no network presence."
"Vodafone intends to complete its FTTH rollout to 1.5 million homes passed, providing it with access to a NGN network covering up to 10 million homes released to marketing, equivalent to 57% of total Spanish homes."
Considerable potential to speed up growth in Spain – as a result of the deal, Vodafone can now leverage its vast distribution network to enhance the penetration of ONO's homes released to marketing, which when compared to other major European cable operators is the lowest in Europe.
There is also a greater opportunity now to cross-sell ONO products and services to Vodafone's existing subscribers. The takeover also allows Vodafone to sell its own products and services to ONO customers.
Revenue synergies should reach a total net present value of about €1.0 billion (£0.8 billion, $1.39 billion) after integration costs.
Vodafone deals since 2001
2001 – acquires Eircell, Ireland's largest wireless communications company, which was subsequently rebranded as Vodafone Ireland.
2001 – buys J-Phone, Japan's third-largest mobile operator. J-Phone had introduced the first camera phones in Japan.
2001 – Vodafone signs a "Partner Networks" deal with TDC Mobil of Denmark.
2007 – Vodafone signs a sponsorship deal with the McLaren Formula One team. The deal ended in 2013.
2011 – buys the remaining shares ($5 billion) of Vodafone Essar from Essar Group Ltd.
2011 – acquires Bluefish Communications Ltd, an ICT consultancy firm.
2012 – buys Cable & Wireless Worldwide (CWW).
2013 – takes over ownership of Kabel Deutschland.
2013 – sells its 45% stake in Verizon Wireless to Verizon Communications for $130 billion – one of the largest deals in corporate history.
2013 – starts its 4G rollout to provincial New Zealand.
2014 – acquires ONO, Spain's largest cable operator.
---
Video – What is takeover?
When one business purchases another, we refer to it as a takeover. When two same-sized firms get together and become one, it is a merger.
---