Efficiently growing crops in agriculture is a key factor in meeting the needs of a rapidly growing world population facing climate change.
Researchers at the University of Missouri are tackling this issue by studying how corn maintains root growth during drought conditions.
Gui DeSouza, an associate professor of electrical engineering and computer science, and colleagues, studied the effects of climate change on crops in Missouri and developed a robotic system that can determine how different kinds of corn handle drought. Their work represents a major milestone in examining efficiency in agriculture.
Developing drought tolerant corn capable is considered to be a vital element in the formation of a sustainable agricultural sector for the estimated 9 billion global population by 2050.
---
---
Using principles developed in his Vision-Guided and Intelligent Robotics (ViGIR) Laboratory, DeSouza is making significant changes in the way agriculturists collect data in the field.
"I've been working with CAFNR [the College of Agriculture, Food and Natural Resources] assisting them in experiments where we helped to create 3-D images of root growth in the laboratory," DeSouza said.
"Now, we're creating robotics to assist in creating images of corn shoot growth out in the field."
The robotic system devised by DeSouza and his team consists of two robotic platforms: an autonomous ground vehicle (Vinobot) and a mobile observation tower (Vinoculer).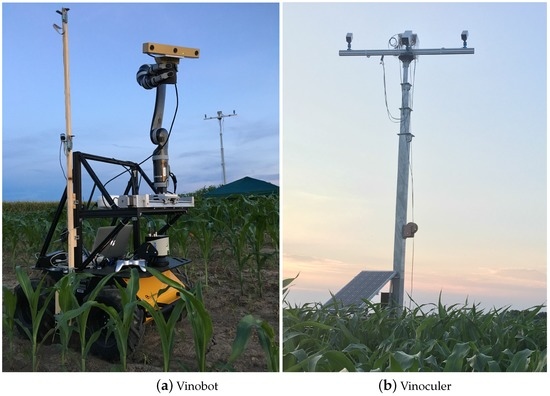 Vinobot gathers data from individual plants, while the solar-powered Vinoculer tower keeps watch of an entire field, identifying specific plants for further inspection by the Vinobot.
According to the abstract of the team's study, there are three benefits to this system:
"First, it allows the system to inspect large areas of a field at any time, during the day and night, while identifying specific regions affected by biotic and/or abiotic stresses; second, it provides high-throughput plant phenotyping in the field by either comprehensive or selective acquisition of accurate and detailed data from groups or individual plants; and third, it eliminates the need for expensive and cumbersome aerial vehicles or similarly expensive and confined field platforms."
As DeSouza explains, the measurements taken from the tower send an alert if any of the plants are under stress, such as heat or drought.
"The tower then signals the mobile robot, which we call the Vinobot, to go to a particular area of the field and perform data collection on the individual plants.
"The Vinobot has three sets of sensors and a robotic arm to collect temperature, humidity and light intensity at three different heights on the corn plant.
"This is called plant phenotyping, which assesses growth, development, yield and items such as tolerance and resistance to environmental stressors by correlating these to physiology and shape of the plants," he said.
The new data collecting technique should help scientists better understand how corn copes in the face of a changing climate.
"We have a growing population that demands more and more food," DeSouza was quoted by Wired as saying. "We have to produce more, we have to optimize the field, we have to optimize the planting, we have to increase the density. How are we going to adapt to those needs?"
The project was funded through a $20 million grant the university received from the National Science Foundation in 2014.
Ali Shafiekhani, a graduate research assistant, who has worked on the project for three years.
---
Reference:
Shafiekhani A, Kadam S, Fritschi FB, DeSouza GN. Vinobot and Vinoculer: Two Robotic Platforms for High-Throughput Field Phenotyping. Sensors. 2017; 17(1):214.
---