An AT&T DIRECTV takeover agreement has been approved by both boards of the US telecommunications giant and the satellite TV provider in a deal valued at $48.5 billion involving cash and stock.
Under the terms of the deal, AT&T will acquire DIRECTV by paying its shareholders $95 per share, consisting of $28.50 per share in cash and $66.50 per share in AT&T stock.
The acquisition, which needs to be approved, will give AT&T access to forty million digital TV customers in the United States and Latin American, adding another source of revenue to its traditional telecommunications business.
Approval required
The takeover still has two more hurdles to jump:
DIRECTV shareholders' approval.
Approval by the US Department of Justice and the Federal Communications Commission.
AT&T and Direct TV both believe the deal will be completed within the next 12 months.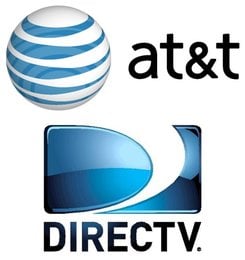 Randall Stephenson, AT&T Chairman and CEO, said:
"This is a unique opportunity that will redefine the video entertainment industry and create a company able to offer new bundles and deliver content to consumers across multiple screens – mobile devices, TVs, laptops, cars and even airplanes. At the same time, it creates immediate and long-term value for our shareholders."
"DIRECTV is the best option for us because they have the premier brand in pay TV, the best content relationships, and a fast-growing Latin American business. DIRECTV is a great fit with AT&T and together we'll be able to enhance innovation and provide customers new competitive choices for what they want in mobile, video and broadband services. We look forward to welcoming DIRECTV's talented people to the AT&T family."
AT&T buys into wide range of pay TV products
DIRECTV is one of the leading pay TV providers in the American continent, with viewers in the US and Latin America. AT&T has a "best-in-class" nationwide mobile network and high speed broadband network that will cover 70 million customer locations with the broadband expansion that this deal will enable, AT&T wrote.
DIRECTV has a wide range of premier programs, including the TV rights to "NFL Sunday Ticket"; subscribers have access to every US football match played on Sunday afternoons via their laptops, mobile devices and televisions.
Mike White, president and CEO of DirecTV, said:
"This compelling and complementary combination will bring significant benefits to all consumers, shareholders and DIRECTV employees. U.S. consumers will have access to a more competitive bundle; shareholders will benefit from the enhanced value of the combined company; and employees will have the advantage of being part of a stronger, more competitive company, well positioned to meet the evolving video and broadband needs of the 21st century marketplace."
Many partnerships formed
As communications giants pair up, the pressure will grow on those that are still alone. Comcast recently came to a deal to acquire Time Warner Cable for $45 billion, while Sprint Corp. is pushing ahead with a possible bid for T-Mobile US Inc.
Dish Network Corp, a satellite broadcaster like DIRECTV, but one focusing on the wireless industry, is still alone. Ryan Knutson writes in the Wall Street Journal that many people in Wall Street thought a deal with Dish would have suited AT&T better.
Verizon Communications Inc., which is larger than AT&T in the wireless business, spent $130 billion acquiring 45% of UK's Vodafone PLC and is still developing its video strategy.
Knutson says it is uncertain whether Verizon and Dish can stay on the sidelines "as bigger rivals gain the clout to cut new deals and plow money into new technologies."
---
Video – What is takeover?
When one firm purchases another, we refer to it as a takeover. When two equally-sized companies get together and become one company, we call it a merger.
---