Barclays abolishes bank cashiers, announcing that its 6,500 UK traditional cashiers will become "community bankers" and will receive a wage hike of 2.8% to reflect their promotion. The traditional glass booths will be taken out of all branches as the British digital banking revolution gathers pace.
UK customers will be encouraged to use machines to pay in checks and cash while the promoted employees will walk around with iPads and provide advice on a range of topics, such as opening new accounts. The bank says the community bankers will be "focused on making our customers' lives easier."
In a press release, Barclays wrote:
"With a more flexible and empowered team, staff will have more time to support our customers from branches through to the wider community."
More than 30 Barclays branches already have no main counters.
No branch closures
The 300-year-old bank says the move will not lead to branch closures, even though a few months ago it replaced 1,700 employees with machines.
A small desk will probably be kept in the new-style branches where customers who do not want to use machines can be attended.
The move reflects the dramatic way the banking business is changing with a growing number of customers opting to carry basic transactions through a digital platform "and instead using branches for more in-depth conversations with staff."
As from October 1, the 'B1 Cashier' will move up a grade to 'B2 Community Banker', the London-based bank announced.
CEO of Barclays Personal Banking, Steven Cooper, said:
"We know that really helping customers requires a lot of valuable people skills and this change is about investing in our colleagues and recognising their talents."
Campaign group Move Your Money is not impressed, with Charlotte Webster describing the announcement as "yet another cynical move to save money rather than provide a better service to customers."
Personal banking has changed dramatically over the last sixty years.
Barclays massive streamlining program
In May, Barclays announced that up to 19,000 employees are going to be laid off within the next two years, with half of all redundancies occurring in the UK and 7,000 in the investment banking arm of the company.
In early May the bank reported a 5% drop in profits to £1.69 billion, mainly driven by a 28% decline in investment banking income.
A total of about 14,000 employees will be laid off in 2014, including 2,000 in the investment banking arm which employs 26,000 people globally.
UK digital banking revolution
According to a study – Way We Bank Now – carried out by the British Banking Association and accountancy firm EY, mobile and internet banking is currently being used for transactions worth almost £1 billion per day in the United Kingdom.
The authors also show that millions of customers are opting for contactless cards, SMS balance alerts and payment by mobile. So far this year, over 15,000 Brits are downloading banking apps each day.
According to the report's findings:
Online banking is currently used for £6 billions' worth of transactions each week, compared to £5.8 billion in 2013.
Banking apps for tablets and mobiles have been downloaded more than 14.7 million times.
There are currently about 7 million Internet banking service log-ins a day.
In 2014, consumer spending using contactless cards is expected to reach £6.1 million a week, nearly double 2013's £3.2 million a week.
In the last two years, 2,274 bank branches have been refurbished to better meet customer demand for digital services.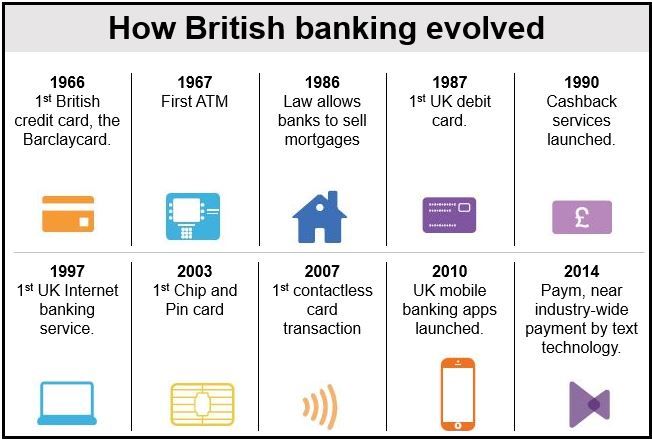 (Data source: British Banking Association)
Chief Executive of the BBA, Anthony Browne, said:
"This report shows just how enthusiastically the British public is embracing mobile banking, contactless cards and a range of other consumer-friendly banking technologies. The way we bank now has made it a lot easier for us to keep track of our finances, with far more options about how we spend our money and talk to our bank."
"This study shows that banks have, are and will continue to compete against one another to offer customers innovative technology to win your custom. It's a revolution putting more power in your hands."