In 2014, High Brown Fritillary, Britain's most critically endangered butterfly, made a spectacular comeback as conservationists registered a population increase of 180% compared to 2013.
The Centre for Ecology and Hydrology (CEH), Butterfly Conservation and the UK Butterfly Monitoring Scheme (UKBMS) said this was thanks to a warm spring last year, plus work to restore the insect's habitat.
In 2014, High Brown Fritillary (Fabriciana adippe) recorded its best year for a decade.
High Brown Fritillary is one of two butterfly species in the UK on the critically endangered list. It is restricted today to a handful of colonies in South West and North West England, plus one in Wales.
High Brown Fritillary is one of two butterfly species on Britain's 'critically endangered' list. (Image: Butterfly Conservation)
Thanks to work by Butterfly Conservation, a Dorset-based charity, along with some partners, and warmer-than-normal spring weather, the butterfly thrived last year.
Other butterflies had a good year too
A warmer-than-average spring plus an early summer benefitted several other British butterfly species, including the Brimstone, Ringlet and Marbled White, which had their best year since 1976, when UKBMS began.
Speckled Wood and Orange-tip had their fourth best year ever. The threatened Duke of Burgundy saw its population rise by 26% in 2014 compared to 2013.
British skipper butterflies also had a good year, especially those whose populations peak during early-to-mid summer, with all seven species posting an annual increase. Skipper butterflies (or simply skippers) belong to the family Hesperiidae. They are thus named because of their quick, darting flight habits. There are 3,500 species worldwide.
The Large Skipper's population increased by 86% last year, while the rare Lulworth Skipper saw numbers rise by 15%.
Over half of the 56 species monitored registered population increases compared to 2013.
Last year, the summer started off warm, but gave way to colder conditions later on, which resulted in butterfly populations peaking in July rather than August. August's weather was wetter and colder than average.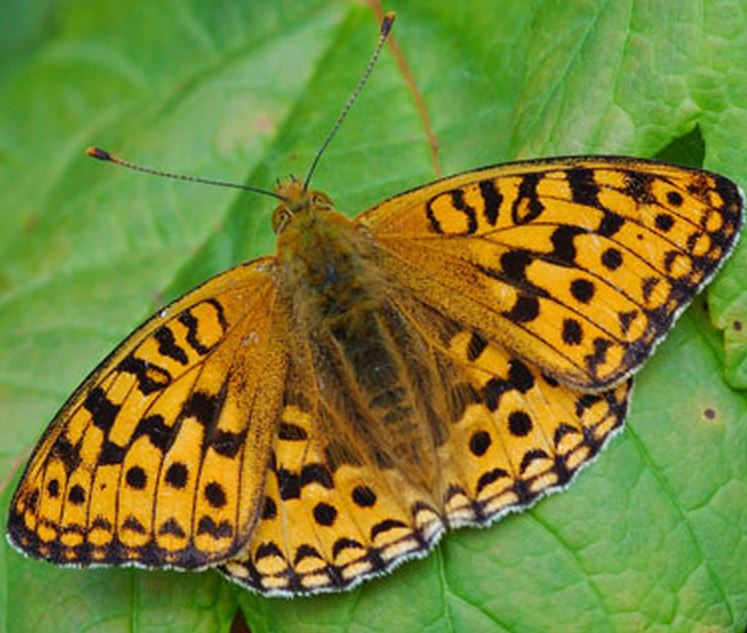 High Brown Fritillary benefitted from a warm spring and work to protect its habitat. (Image: Butterfly Conservation)
Some butterflies had a bad year
The 'cabbage white' butterflies did not do so well. The Small White saw its population decline by -66%, and the Large White by -69%, in 2014 versus 2013.
The Adonis Blue and Chalk Hill Blue both declined in 2014 by -55% and -42% respectively over the same period.
Head of Monitoring at Butterfly Conservation, Dr. Tom Brereton, said:
"The High Brown Fritillary is one of only two butterflies classed as critically endangered in the UK so it is fantastic news that numbers are at their highest level for more than a decade."
"A huge amount of work co-ordinated by Butterfly Conservation has been put into conserving this butterfly in recent years, especially though wildlife-friendly farming schemes, so the results will come as a welcome boost to all involved."
"There is a long way to go before the long-term decline has been reversed, with ongoing targeted conservation efforts crucial in this."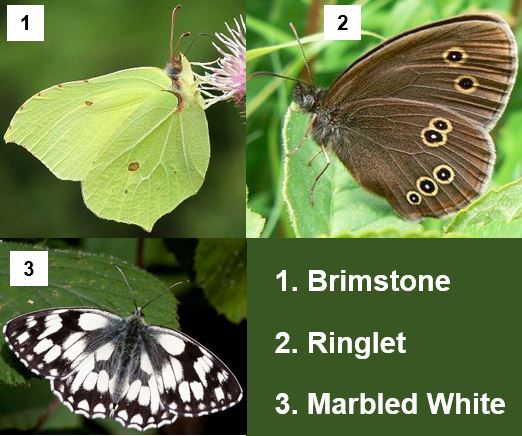 The Brimstone, Ringlet and Marbled White butterflies also had a good year.
The UKBMS, which has been running since 1976, has thousands volunteers gathering data through the summer from about 2,250 sites across the country.
UKBMS is run by the British Trust for Ornithology, the Centre for Ecology and Hydrology, Butterfly Conservation, in partnership with the Joint Nature Conservation Committee, and supported and steered by Natural England, Natural Resources Wales, Scottish Natural Heritage, the Northern Ireland Environment Agency, and the Forestry Commission.