Just 12% of Californians have earthquake insurance compared to 30% in 1996, two years after the country's most costly seismic shock (Northridge, California), says the Insurance Information Institute. Nine of the most economically devastating earthquakes in the US in the last 100 years occurred in California.
The 1994 Northridge earthquake was the fifth most costly insured disaster in US history, it cost:
$44 billion in total property damage, which included
$15.3 billion in insured losses.
If an earthquake like the one in San Francisco in 1906 hit the city today, with just 12% of the population having earthquake insurance, how many of its millions of inhabitants would become totally destitute?
The 1906 quake struck before the development of the Richter magnitude scale. Experts estimate its magnitude was between 7.7 and 8.2, much more devastating than the 1994 Northridge's 6.7.
Earthquake and normal household insurance
Earthquake insurance covers you for loss caused by the shaking and cracking that can damage or completely destroy buildings and personal possessions.
Normal householders/renters insurance policies will cover other types of damage that earthquakes can cause, such as broken water pipes or fire.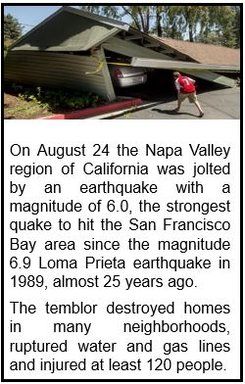 Jeanne M. Salvatore, senior vice president and chief communications officer at the Insurance Information Institute, says:
"Standard homeowners, renters and business insurance policies do not cover damage from earthquakes. Coverage is only available in the form of an endorsement or as a separate policy."
Across the US, you can get earthquake coverage from private insurance firms. The California Earthquake Authority (CEA) offers insurance policies for people who live in the state. The CEA is a publicly-managed, privately-funded organization.
Earthquake insurance premiums
Earthquake insurance premium costs depend on a range of factors, including the value of the property, how it was build, and where it is.
According to the I.I.I., CEA cover for a $750,000 home in San Francisco will cost approximately $2,000 per year, while a typical house in Sacramento worth about $300,000 is unlikely to cost more than $500.
In the CEA website, Californians can check with its premium calculator to estimate what an earthquake insurance policy might cost.
Most policies carry a deductible
A typical earthquake insurance policy carries a deductible, which is usually a percentage of the property's value – from 2% to 20% of the cost of rebuilding the structure – instead of a dollar amount. For example, if your house is valued at $300,000 and you have a 2% deductible policy, you will be liable for the first $6,000.
The size of the deductible generally depends on how earthquake-prone a state is. In Utah, Nevada or Washington, which have a higher-than-average earthquake risk, minimum deductibles are generally set at about 10%.
According to the US Geological Survey's latest (updated) maps, 42 states are at risk of earthquakes, with 16 of them at "high risk". The I.I.I. says earthquake risk is particularly high on the "West Coast, in the intermountain west and the central and eastern United States, including New Madrid, Missouri, and Charleston, South Carolina."
Consumers may opt for a higher deductible in order to save money on premiums. A standard CEA policy includes a 15% deductible, i.e. if your house falls down and is valued at $300,000, you are responsible for the first $45,000 of the home's replacement cost (the cost of building a new one).
Comprehensive vehicle insurance policies have an earthquake option.
(Source: Insurance Information Institute)
Ms. Salvatore says:
"Everyone should contact their insurance professional to make sure that they understand their coverage and that they have the appropriate amount and type of coverage for the risks where they live. The time to find out what is in your insurance policy is before you have a loss. It is also very important to understand the deductibles in your policy and how they will affect your claim."