Canadian investor sentiment saw its largest improvement in five years – since 2011 – increasing by six points overall to +22 in May 2016 from +16 in December 2015, according to a survey – Manulife's Investor Sentiment Index – carried out by Toronto based insurance giant Manulife Financial Corporation.
According to the survey, Canadians' confidence in almost all investment types improved. The largest increases were seen in stocks with +11 points and fixed income with +13 – both of them improved by ten percentage points over the past six months.
Philip Peturrson, Chief Investment Strategist at Manulife Investments, said regarding the growing optimism that is spreading across the country:
"Optimism is growing amongst Canadians when it comes to investing. As oil prices have rebounded, so has the Canadian equity market and the Canadian dollar. Investor sentiment seems to be feeding off these improvements."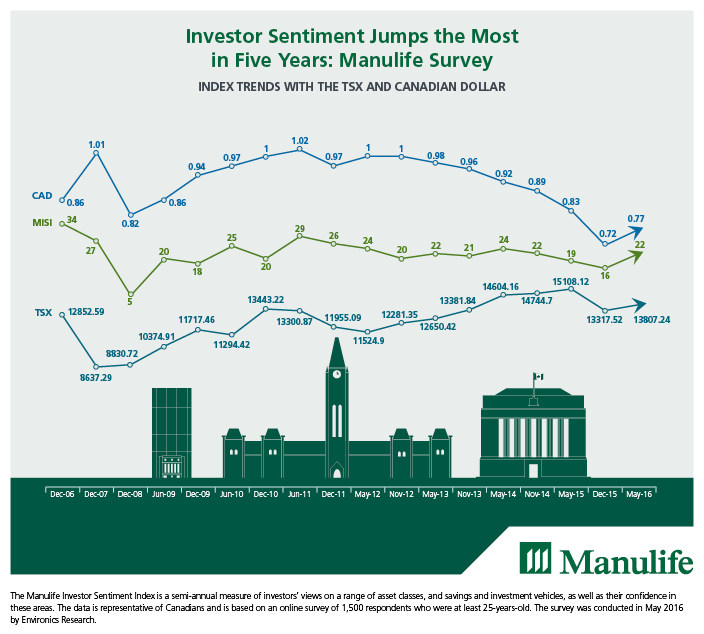 Six months ago Canadian investor sentiment was at best luke warm. Fast forward to August, and these same investors report a surge in confidence – across a wide range of investments. (Image: Manulife)
Manulife has been carrying out two surveys each year on investor sentiment since the year 2000. The Index is based on investor views on several asset classes plus their confidence in these areas.
Investor sentiment across Canada
Investor sentiment in Atlantic Canada over the past six months improved the most – it increased by eight points to +28, closely followed by Quebec's 7-point increase to +16.
---
---
A growing number of Canadian citizens feel they are on track with or ahead of their personal financial goals (50%). Forty-one percent believe their financial position will be better in two years' time compared to their current situation.
In Quebec, sixty percent of investors say they are either on track or ahead of schedule regarding their financial goals, which is considerably higher than the national average of 50%.
Mr. Petursson said:
"We're seeing some major differences in Quebec compared to the rest of the country. The increase in sentiment among Quebecers may be related to the improvements in the province's economy and labour market."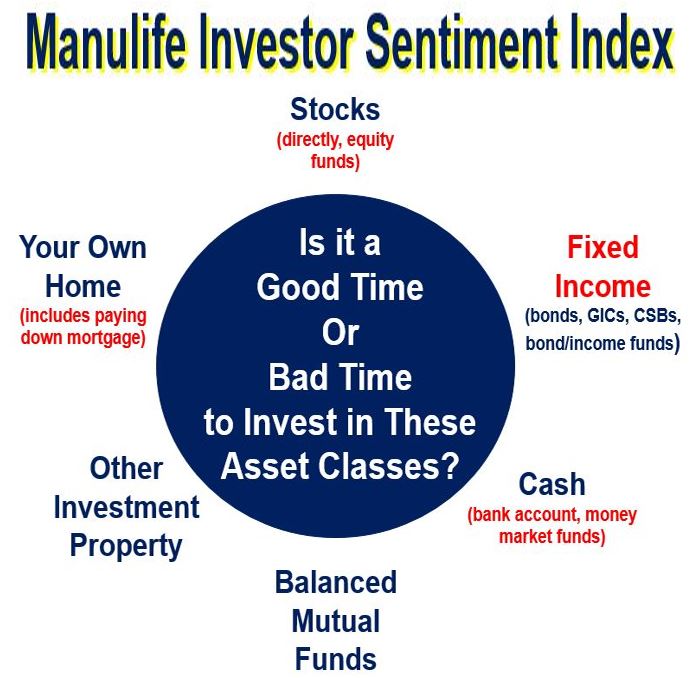 Manulife has been monitoring public interest and trends in investing. As of 2012, the Manulife Investor Sentiment Index is based on an online survey of about two thousand Canadians aged 25+. They are asked whether it is a good or bad time to invest in the asset classes listed in the image above. (Data Source: manulife.ca)
Most popular investments
Even though overall sentiment regarding investing has improved, there is still a certain amount of heightened caution. The most popular type of investment for the next 12 months is cash, at 24%. Nineteen percent of investors said they liked to have cash on hand when needed.
---
---
Mr. Petursson said:
"Although investor sentiment seems to have improved with the Canadian equity market, the interest in cash may imply that investors are still wary about taking on more risk."
Compared to the December 2015 survey results ETFs (exchange-traded funds) have climbed out of negative territory, reaching a record-high on the index (four points). However, fourteen percent of Canadian citizens said they were investing less in their RRSPs (registered retirement savings plans), while 12% said they were putting less into their TFSAs (tax-free savings accounts).
Twenty-seven percent of Canadian investors said they wanted to manage their current lifestyles, while twenty percent said they were concerned with running out of money when they retired.
The number of people in Canada who claimed to be concerned about running out of money with debts during retirement declined by 5% – from 37% in 2014 to 32% today.
Millennials expressed optimism regarding their futures
Canadians aged from 25 to 34 say they are feeling more optimistic regarding their financial situations compared to their older counterparts. Forty percent of millennials feel they will be in a better financial situation than they were 24 months ago, compared to just 25% of over 55 year olds.
Sixty percent of millennials believe their financial situation will improve over the next two years.
Millennials – born from 1980 to about 1995 – are today's young adults.
Video – Canadian investor sentiment jumps most in 5 years
Manulife's semi-annual index of investor sentiment in Canada increased by 6 points overall.