The big six energy companies have been told by UK Business, Energy and Enterprise Minister, Matthew Hancock, to cut prices given that the price of oil has plunged by more than 50% since June 2014. Wholesale prices of oil and gas have also plummeted.
The six companies are SSE, Scottish Power, Npower, EON, EDF Energy and Centrica.
Mr. Hancock wrote:
"Wholesale gas prices have been falling for months, and are now 30% lower than this time last year," he wrote. In a competitive market, I would have expected energy suppliers to cut bills as a result of these low wholesale prices."
"Independent suppliers have done precisely this. However, larger energy suppliers have failed to cut prices across all their tariffs?"
Mr. Hancock said:
"Energy suppliers must come clean. I want to know why savings are not being passed on. When costs rose, prices for punters went up fast. Now costs are falling, prices aren't coming down enough. It can't continue."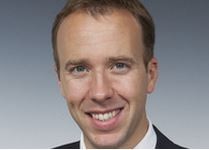 Companies should explain why they cannot cut prices now, Mr. Hancock said. (Image: GOV.UK)
According to information received by Sky News, it is most likely the six companies will rule out any price cuts before May's General Election.
With the opposition Labour party vowing to impose a 20-month freeze on energy prices, the Tories are pushing hard grab the spotlight.
Sky News said the major energy suppliers will explain to ministers that it would be "illogical and impractical" to cut prices, despite the decline in oil and wholesale gas prices, given the time horizons over which they set tariffs.
Labour leader Ed Miliband's pledge to freeze prices for 20 months makes it commercially risky to offer discounts before the elections, the energy companies argue privately.
One of the companies' executives said:
"We are taking pricing decisions now that may have to last for two years. Anything could happen to wholesale prices during that period which would make supplying energy at lower levels than today wholly uneconomic."
Explain why you can't cut prices
Mr. Hancock has summoned the six companies to explain whether their fuel-hedging strategies prevent them from offering cuts now.
Mr. Hancock insists he has no intention of interfering with an ongoing energy sector competition investigation, which is set to publish its preliminary findings in June. However, in order to "maintain market confidence," he believes the energy giants should explain why prices remain unchanged.
Regarding Labour's policy, Mr. Hancock said in an interview with Sky News:
"The evidence increasingly shows the threat of Labour's high price freeze is responsible for higher household bills now. If that's the case, they should abandon it immediately."
"Hardworking households must feel the benefits of lower gas prices and we cannot let the threat of Ed Miliband stand in the way."
Downing Street sources said both the Prime Minister David Cameron and Chancellor George Osborne had approved Mr. Hancock's letter.
Energy UK informed that 1.3 million customers switched from large suppliers to smaller ones over the past 12 months, i.e. about 41% of all switches. This has led to the big six launching new tariffs in response to the cheaper deals offered by their smaller competitors. Even so, the smaller rivals are still generally cheaper. By switching to a cheaper supplier, customers can save up to £400 a year on their fuel bills.
According to Joe Malinowski of TheEnergyShop.com, if the wholesale energy price falls were passed on, customers would see their bills fall by at least £140 (annually).
The Guardian quoted Tom Lyon, a uSwitch.com energy expert, who said: "While quick to pass on rising costs, the big six energy suppliers are yet to reduce bills for the majority of their customers who are on standard tariffs. It's now high time for one of the big six to cut their standard prices and help hard-pressed households, and lay down the gauntlet to the others to do the same."