Elon Musk, CEO of SpaceX, the firm that tried but failed to bring part of its Falcon 9 rocket down to a soft landing, said the booster hit the floating sea platform too hard. However, the company was pleased that it managed to make its way to the platform.
The rocket was launched to send a cargo capsule to the International Space Station – this was done successfully. But on attempting to land a part of the rocket, the approach was too fast.
SpaceX wrote on its website:
"While making it to the drone ship, it landed too hard. "Unfortunately, we weren't able to get good landing video because of the dark and fog, but we are in the process of evaluating invaluable telemetry data which will inform future attempts."
"Close, but no cigar. Bodes well for the future tho'. Ship itself is fine. Some of the support equipment on the deck will need to be replaced. Didn't get good landing/impact video. Pitch dark and foggy. Will piece it together from telemetry and.. actual pieces."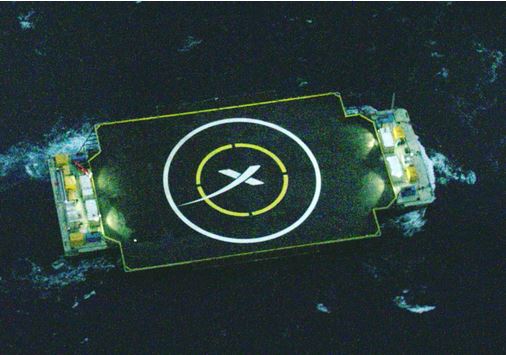 The rocket came in too hard onto the platform of the drone ship (pictured above). (Image: SpaceX)
SpaceX says it has not given up. If it can eventually succeed in landing part of a rocket without destroying it, launch costs in future would be reduced considerably. It would mean that your hitherto throw-away, only-use-once rockets could be re-used after being refurbished.
Rocket carried a 2-ton cargo
Over two tons of experiments, supplies and equipment were sent to the International Space Station when SpaceX Falcon 9 lifted off at Space Launch Complex 40 to place a Dragon cargo capsule on a path to the orbiting lab.
Falcon 9 lifted off at 4.47am EST, bang on time, from the Florida launch site next to NASA's Kennedy Space Center.
Flight controllers at NASA in Houston and SpaceX in Hawthorne, California, reported the spacecraft reached its preliminary orbit as planned and the flight "was going extremely well."
According to NASA, Dragon's cargo is vital to the space agency's scientific goals for the station in several areas. It is delivering the Cloud Aerosol Transport System (CATS) instrument that will be connected to the outside of the station.
"Clouds are one of the largest uncertainties in predicting climate change," said Matt McGill, principal investigator and payload developer for CATS at NASA's Goddard Space Flight Center in Maryland. "For scientists to create more accurate models of Earth's current and future climate, they'll have to include more accurate representations of clouds."
The cargo also contains several biological experiments which work better in near-zero gravity. One of the projects plans to grow proteins inside a 4-inch cube to research a suspected cause of Alzheimer's disease.
According to SpaceX:
"Dragon will now conduct a series of burns on its way to the space station. Dragon is targeted to be grappled around 6:00am EST on Monday, January 12, and be berthed to station later that morning. Continue to check."
It was the first re-supply mission to the orbiting laboratory since October's explosion of a freighter system operated by rival Orbital Sciences Corporation.
Video – SpaceX Falcon 9 rocket lift off
This NASA video shows the SpaceX CRS-5 Falcon 9 rocket lifting off from Space Launch Complex 40 at Cape Canaveral Air Force Station.