The Tories want to make it harder for public service employees to go on strike, a proposal that has infuriated unions across the country. The Conservatives want their proposal included in their election manifesto.
The proposed legislation, if approved, would mean that any industrial action by education, health, transport and fire services could only occur with the support of at least 40% of all those entitled to participate in strike ballots, as well as the majority of those voting.
This would mean that most strike actions resulting from a ballot in which only a small proportion of unionized workers participated would be illegal.
The Trades Union Congress (TUC) denounced the move as a "democratic outrage". It said that with the Conservatives planning pay restraint plus large-scale job cuts, workers' right to strike would be removed.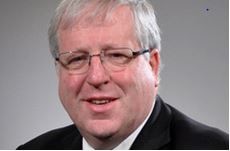 Mr. McLoughlin says he wants to end union leaders holding the country to ransom when only a minority of members back them. (Image: GOV.UK)
Paul Kenny, general secretary of the GMB union pointed out the hypocrisy, given that the Conservative party won the 2010 general election with less than 40% of the national vote. He added that only 15 Conservative Members of Parliament (MPs) managed to get 40% of the votes (of those entitled to vote in their constituencies).
The Tories also propose to end the ban on the usage of agency personnel to cover for striking workers. They would also like to introduce legislation that would guarantee a minimum level of core services during strikes.
If the Conservatives win May's General Election, Transport Secretary Patrick McLoughlin said the proposed legislation would be passed in the first year of parliament. He said his party would put an end to union leaders, with only a small proportion of members backing them, "holding the country to ransom".
The proposal will end the right to strike, says Ms. O'Grady. (Image: TUC)
The Conservatives had previously proposed that at least 50% of unionized members would be needed to approve a strike in a ballot for it to be legal. They had also called for the end of "rolling madates" – calling a strike based on ballots taken years ago.
If the Tory proposals had become law in 2010, eighty-six of the 119 significant ballots for industrial action carried out between August 2010 and December 2014 would have been invalid.
TUC General Secretary Frances O'Grady said regarding the Tory manifesto proposal:
"The Conservatives know that this threshold will effectively end the right to strike in the public sector. No democracy elsewhere in the world has this kind of restriction on industrial action. It is a democratic outrage, especially as the Conservatives have opposed allowing secure and secret online balloting – the one measure guaranteed to increase turnouts."
"We know they plan to get rid of a million public sector jobs and cut the value of public sector pay every year in the next parliament if they win the election. Now they are also going to make it impossible for public sector workers to resist."
Britons use the term 'industrial action.' Americans and Canadians also say 'job action.'