Some diets, such as well-balanced plant-based diets, improve human health. They can lead to better nutrient levels and a 20% lower incidence of premature death from chronic disease, says a team of researchers from the UK, USA, and Australia. Plant-based diets also help lower fertilizer application, greenhouse gas emissions, cropland and freshwater use, and greenhouse gas emissions.
A greenhouse gas is a gas that helps keep a planet's surface warm because it absorbs and emits radiation. Methane and carbon dioxide, for example, are greenhouse gases. There is a worldwide effort to reduce greenhouse gas emissions.
The researchers wrote about their study and findings in The Lancet Planetary Health (citation below).
The impact of some diets
The authors say their study is the first to comprehensively assess the direct relationship between the health, nutritional, and environmental impacts of some diets.
Dr. Marco Springmann said:
"The food people eat impacts their health and the health of the environment. Unhealthy diets, overconsumption, and hunger are leading to nutritional deficiencies and diet-related chronic diseases around the world."
"The food system is also a major cause for climate change, freshwater depletion, deforestation, and pollution of ecosystems, for example through over-application of fertilizers."
"We investigated the aspects of our diets that we should change to improve health and nutrition around the world whilst at the same time reducing environmental impacts whenever possible."
Team leader, Dr. Springmann, works at the Oxford Martin Programme on the Future of Food and the Centre on Population Approaches for Non-Communicable Disease Prevention at the Nuffield Department of Population Health, University of Oxford."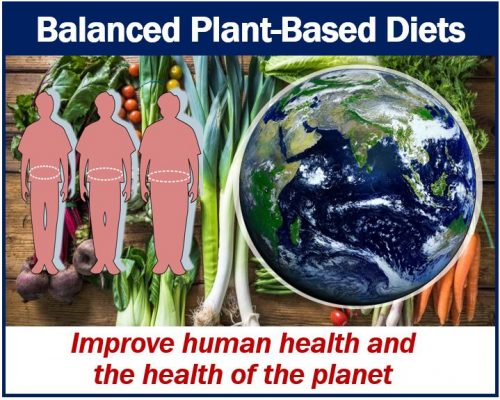 From animal-based to plant-based diets
The researchers considered three different dietary-change strategies. They considered:
Replacing animal products with plant-based products.
Improving body weight levels by addressing calorie consumption. Specifically, addressing over- and under-consumption of calories.
The adoption of well-balanced and mainly plant-based diets. These diets reflect current scientific evidence on healthy eating. They looked at, for example, the flexitarian diet, which is semi-vegetarian. The researchers also looked at vegetarian, vegan, and pescatarian diets.
The researchers wanted to determine how these diets affected chronic-disease mortality, nutritional deficiencies, and the environment. Greenhouse gas emissions, cropland use, freshwater use, for example, are some of the environmental issues they looked at. The study covered more than 150 countries.
Calorie characteristics of some diets
Improving people's body weight by reducing or increasing calorie intake led to similar reductions in deaths from chronic diseases. Some diets make people consume more calories so that they put on weight. These diets reduce levels of underweight in low-income nations.
Other diets, on the other hand, reduce calorie intake. They subsequently reduce levels of overweight in high- and middle-income nations.
However, these calorie-focused diets only improved nutrient deficiencies moderately, the authors found. They also led to quite small reductions in environmental impacts at the worldwide level.
Some diets had a better all-round impact
Plant-based, energy-balanced dietary patterns addressed these problems. They also resulted in an adequate supply of most nutrients in the majority of regions. Additionally, there were large reductions in chronic disease mortality. Flexitarian and vegan diets reduced chronic disease mortality by 19% and 22% respectively.
The energy-balanced diets that were most plant-based also led to lower environmental impacts in most regions and globally.
According to a University of Oxford press release:
"Globally, the changes included large reductions in greenhouse gas emissions (54–87%) with greatest reductions for vegan diets, medium-level reductions in nitrogen application (23-25%) and phosphorus application (18–21%) with greatest reductions for vegan diets, and small to moderate reductions in cropland use (8-11%) and freshwater use (2–11%) with greatest reductions for pescatarian and flexitarian diets, respectively."
Dr Springmann said:
"Our research suggests that we need a dietary-change strategy that encourages predominantly plant-based diets and improvements in weight levels and total calorie intake, in line with the latest scientific evidence on healthy eating, if we are to address nutrient deficiencies, lower the number of deaths from chronic-diseases, and reduce environmental impacts."
"However, many national dietary guidelines do not reflect the latest scientific evidence on healthy eating and include no or very lax limits for animal products, particularly meat and dairy. Updating national dietary guidelines to reflect the latest evidence on healthy eating is important not only for improving human health, but also for preserving the health of the environment by reducing the environmental impacts of our food system."
Citation
"Health and nutritional aspects of sustainable diet strategies and their association with environmental impacts: a global modelling analysis with country-level detail," Peter Scarborough, DPhil; Marco Springmann, PhD; Keith Wiebe, PhD; Prof Mike Rayner, DPhil; Daniel Mason-D'Croz, MA; and Timothy B Sulser, MS. The Lancet Planetary Health. Published: October, 2018. DOI:https://doi.org/10.1016/S2542-5196(18)30206-7.