A drone near miss put 130 lives at risk as an airplane was approaching Gatwick Airport in England. According to a UK Airprox Board report, the drone flew too close to the Airbus 319. The near miss occurred on 9th June 2017. The report also stated that there was a high risk of collision.
The drone near miss may have turned out disastrously different with a larger aircraft.
According to the Report:
"A larger aircraft might not have missed it and in the captain's opinion, it had put 130 lives at risk."
In other words, the pilot said the drone came dangerously close to the Airbus 319.
The UK Airprox Board's main objective is to improve air safety in the United Kingdom.
Definition of 'Airprox'
The term 'Airprox' refers to a situation in which an aircraft came dangerously close to another airplane. In other words, one aircraft undermined the safety of another. Airprox stands for Aircraft Proximity.
"An airprox is a situation in which, in the opinion of a pilot or air traffic services personnel, the distance between aircraft as well as their relative positions and speed have been such that the safety of the aircraft involved may have been compromised."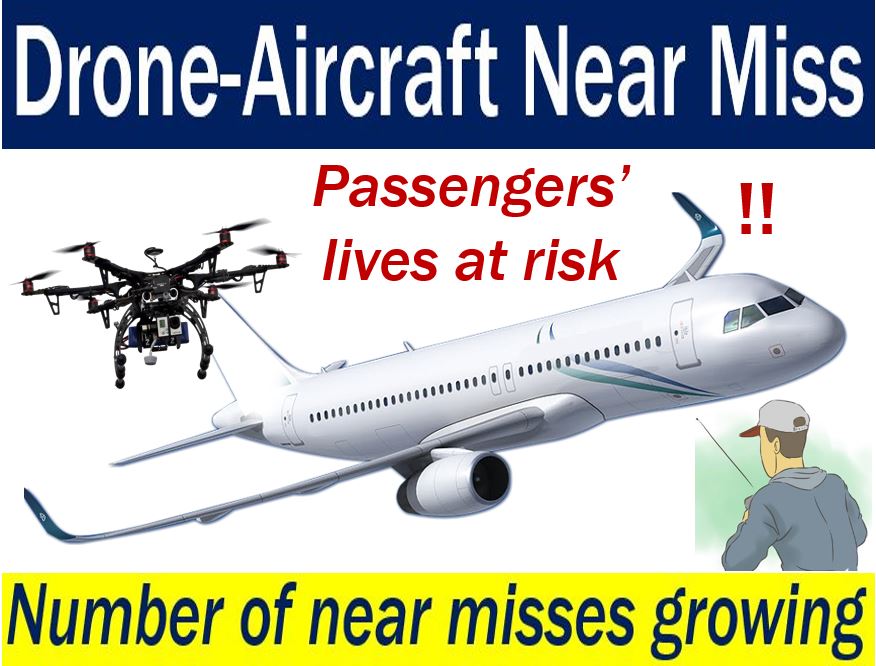 Drone near miss incidence
According to the UK Airprox Board report, there were eighteen aircraft-to-drone incidents in September 2017. In other words, on 18 occasions, drones were flying too close to airplanes.
Ten of those incidents had a definite risk of collision.
Regarding the most recent near miss, British Airways pilot Steve Landells told the BBC that the incident was worrying. It was a "near miss that could have ended in tragedy," Landells commented.
The incident occurred at 20:35 BST. Due to the twilight conditions, the drone appeared dark in colour, said the report.
The authors wrote:
"At its closest point, it passed between the wing-tip and the fuselage, above the right wing."
It was a large drone, with four blades and about three feet across. However, what was worrying was the drone's proximity, rather than its relatively large size. In fact, even small drones can put passengers' lives at risk.
Drone registration
Britain's Department of Transport announced in July plans to introduce a drone registration system. The announcement followed a study that showed that drones can smash airplanes' windscreens (USA: windshields).
In a press release in July, the Department of Transport wrote:
"Drones will have to be registered, and users will have to sit safety awareness tests under new rules."
"Owners of drones weighing 250 grams and over will in future have to register details of their drones."
Pilots have welcomed the Department of Transport's proposal. However, pilot's association BALPA wants to see details of the legislation. It also asked for a timescale for its implementation. BALPA stands for British Airline Pilots Association.
BALPA says that drones are here to stay. Therefore it is vital that they integrate into airspace sensibly and safely. However, pilots are expressing concern about the growing number of near misses.
Video – drone near miss JFK Airport
This NBC News video reports on a near miss at JFK Airport in the United States. The drone was just 100 feet from the aircraft as it was approaching the runway to land.