What is the Bank of England? Definition and examples
The Bank of England or BoE is the United Kingdom's central bank. It says that its mission is to promote the good of the people. It aims to do that by maintaining monetary and financial stability.
A central bank or a reserve bank is a bank that is in charge of a country's money. It is also in charge of how that money operates within the economy. Some central banks, such as the European Central Bank, operate on behalf of a group of countries.
Bank of England – lender of last resort
The Bank of England is the UK's lender of last resort. If a bank needs money and no other financial institution will lend to it, the lender of last resort intervenes. In other words, it supplies the required funds.
In most cases, however, the Bank of England will lend to the desperate bank with strings attached. It may, for example, take control of it or find it a new owner. It may even decide to close it down.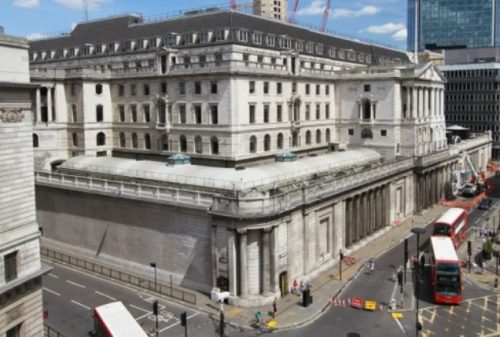 Bank of England issues banknotes
Like other central banks across the world, the Bank of England designs and prints banknotes. It makes sure they get to places where the country needs them.
In England and Wales, only the BoE can issue banknotes. In Northern Ireland and Scotland, on the other hand, seven commercial banks can issue them.
Regarding issuing banknotes, the Bank of England says:
"We have to make sure that people have confidence in our currency – in other words, that they can feel sure that the banknotes they use are genuine."
"So we make sure our banknotes include the latest anti-forgery features, and we provide training and education resources to help people spot fake notes."
Bank of England determines monetary policy
Monetary policy is the main focus of every central bank. Monetary policy involves deciding on interest rates and regulating the money supply.
The Bank of England manages monetary policy to stabilize the pound sterling – the UK's currency. It also manages monetary policy to control inflation and make sure that the economy is going in the right direction.
By deciding on interest rates, central banks can affect how much money individuals and companies borrow. This also determines how much they spend.
Do not confuse monetary policy with fiscal policy. Fiscal policy refers to government spending, borrowing, and taxation.  Put simply; the Bank of England deals with monetary policy while the government decides on fiscal policy.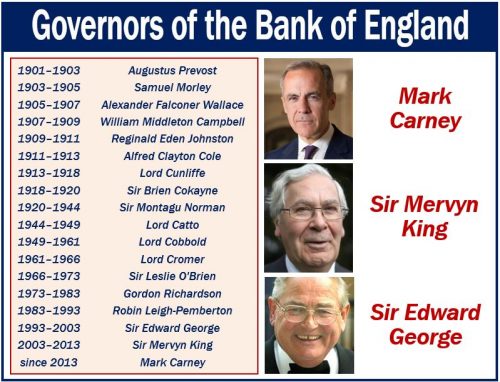 Bank of England supervises financial firms
The BoE regulates and supervises different types of financial institutions.
As a central bank, it must supervise financial market infrastructures (FMIs), which provide functions that are crucial to Britain's financial system, such as clearing houses and payment systems.
The Bank of England supervises three main types of FMI: central securities depositories, central payments systems, and central counterparties (CCPs).
Prudential Regulation Authority
The BoE's Prudential Regulation Authority (PRA) supervises and regulates financial services companies.
According to Britain's central bank, PRA monitors and regulates approximately 1,500 banks, credit unions, and insurers. It also regulates and supervises building societies and major investment firms.
Bank of England – 1694
The Bank of England was founded on 27th July 1694 as a private bank. At the time, it acted as a banker to the Government.
King William and Queen Mary were the bank's two original stockholders. They founded the bank primarily to fund the war effort against France.
Also in 1694, Sir John Houblon became the bank's first Governor. At the time, the bank accepted deposits from the public.
Sir John Houblon appeared on the £50 note that the BoE issued between 1994 and 2014.