What is the European Commission? Definition and examples
The European Commission is the European Union's politically independent executive arm. The European Commission is responsible for proposing new legislation for the European Parliament and the Council of the European to pass. In other words, the Commission first draws up the proposals. Both the European Parliament and Council of the European subsequently decide whether to turn them into new laws.
The European Commission has existed since 1958. It also implements the decisions that the European Parliament and Council of the European Union have made.
The European Union or EU is a political and economic union of twenty-eight nations. It is the world's largest single consumer market.
EU's four key institutions
The EU has four key institutions; the European Commission is one of them. The other three are the Court of Justice, the Council of the European Union, and the European Parliament.
Europa.eu says the following about the European Commission:
"(It) promotes the general interest of the EU by proposing and enforcing legislation as well as by implementing policies and the EU budget."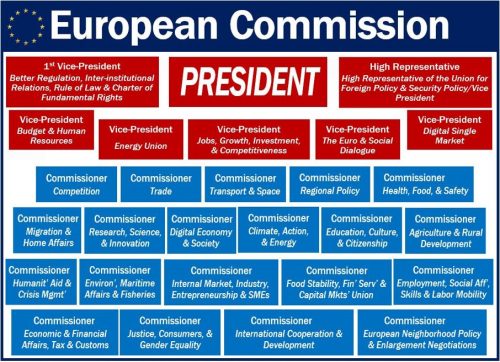 European Commission – structure
The European Commission (Commission) has a President and a 'College' of Commissioners. There is one Commissioner for each European Union member state.
The Commission also represents the EU abroad. It speaks on behalf of its member states in international bodies.
It represents member states in, for example, international meetings regarding trade policy and humanitarian aid.
Commissioners swear an oath
When somebody becomes a Commissioner, they swear an oath at the European Court of Justice in Luxembourg. They pledge to respect the treaties and also to be completely independent in carrying out their duties.
In other words, their oath binds them to represent the EU's general interests rather than those of their home country. Therefore, in theory, the European Commission is an independent body.
Choosing the President
The European Council proposes the Commission President. This person is one of the twenty-eight Commissioners. The European Parliament decides on the Council's proposal.
Jean-Claude Juncker became President of the European Commission in 2014. He appointed his previous campaign director, Martin Selmayr, as his Chief of Cabinet.
In a Politico article, David M. Hrszenhorn said the following about Selmayr:
"For a true believer in democracy, Martin Selmayr runs the European Commission not as some curator of debate but like the merciless hand of a king, who will stop at nothing to protect his vision of the realm: Europe, united and free."
"Make that an extremely heavy hand. Or maybe an armored bulldozer."