In one of the most outspoken comments by a cabinet minister, UK's Foreign Secretary Philip Hammond said his country was "wide open to abuse" by "freeloading" migrants from the European Union (EU) who were abusing Britain's *welfare state.
* In this context, welfare state refers to government financial assistance – giving money to people. The welfare state emerged in the UK after the Second World War.
The British government is committed to reforming its relationship with the EU so that the public is satisfied with the impact of migration numbers, Mr. Hammond, who has been Foreign Secretary since July 2014, added.
His use of the term "freeloading" will incense senior Brussels figures. With May's general election drawing closer, the use of emotive language is bound to increase.
European Commission president, Jean-Claude Juncker, surprised many Brits earlier this week when he suggested as with a doomed romance, perhaps the UK should consider getting a divorce from Europe.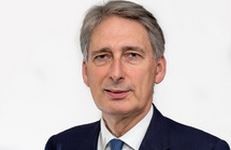 Is Mr. Hammond's choice of words aimed at stemming the loss of Tory votes to UKIP? (Image: GOV.UK)
Mr. Hammond said in the House of Commons yesterday:
"As the Prime Minister has set out on more than one occasion, we have increasing agreement across the European Union that we need to address abuse of free movement."
"Free movement to work is one of the principles of the European Union; free movement to freeload is not one of the principles of the European Union. Britain is not the only country affected by this problem and not the only country determined to address it."
EU members want UK to stay
Mr. Hammond said he felt confident the UK could negotiate a "substantial" package of reforms in the EU after visiting several capitals across the continent and being reassured by EU members that they would prefer Great Britain to remain in the trading bloc.
Prime Minister David Cameron is committed to having a referendum on the UK's EU membership in 2017. He has promised to renegotiate the country's ties with the EU if his party (Conservatives) is re-elected in May.
Mr. Hammond has been told by the Prime Minister to visit all 27 EU member states before the general election to find out what common ground there might be. The UK would like to see power handed back to national parliaments, as well as making the whole region more competitive.
Regarded as a hard-line Eurosceptic, Mr. Hammond told a committee of MPs (members of parliament) that he is certain the UK will be able to "negotiate a substantial package of reform."
Mr. Hammond said:
"We are an important element in a very delicate balance of power within the European Union and, for different reasons, everybody fears the consequences of Britain leaving."
Immigration is a big issue for the British electorate. Mr. Cameron has pledged that he will control the flow of EU migrants into the UK. Many wonder about his sincerity, because he said the same four years ago, but numbers have continued increasing.
However, Britain is going to find it hard to persuade the EU to change one of its fundamental principles – the freedom of movement of labour within the trading bloc. German Chancellor Angela Merkel as well as several other EU leaders have said that cannot be altered.
Migrants pay in more than they take out in UK
The Conservative party is losing votes to the anti-EU UKIP party, which would like to see the UK leave the European Union and pledges to drastically reduce the number of migrants coming into the country each year.
European migrants have contributed £4.96 billion more in taxes than they cost in benefits in the UK, according to a study published in November by the Centre for Research and Analysis of Migration (CReAM), part of University College London.
EU citizens who moved to the UK since 2000 have contributed more than £20 billion to the nation's public finances between 2001 and 2011. They have also provided the country with *human capital that would have cost £6.8 billion in education and training expenditure had they not come.
*Human capital refers to investments we make in human beings in order to make them more productive, including training & education, skills, experience, etc.
Even migrants from Central and East European "accession" nations, which the tabloids say are the cause of much of the country's problems, paid out 12% more in taxes than they received.
In order to stem the loss of votes to UKIP, the Conservatives probably feel they have no choice but to bang the anti-migrant drum if they want to be re-elected.
Britain is European, says Sir John Major
In an interview with The European, former British Prime Minister Sir John Major says his country is becoming more European. He does not believe UKIP represents the views of the majority of Brits.
While the UK does have an "unenthusiastic portion" who see themselves as being British but not Europeans, Sir John said that "this feeling fades with each generation" and argued that as long as people are presented with "broader arguments" they will be persuaded "that staying within the EU is in our best interest."
Britain must stay in the EU, Sir John emphasized, if it leaves it will "lose some of its influence and power," he added.