Costs related to millions of vehicle recalls have driven GM Q2 profits down by 80% to $200 million compared to $1.2 billion in the second quarter of last year. So far this year, the company has recalled nearly 29 million vehicles.
Excluding the recall problems, GM's global core performance in Q2 was quite good, but its core North American operations disappointed.
EBIT (earnings before interest and taxes) was $1.4 billion, much less than the $2.3 billion posted in Q2 2013.
Repairing recalled cars in the second quarter cost the company $1.2 billion.
$400 million charge added
GM has put aside an additional $400 million for ignition switch compensation payments. It added that the charge is just an estimate.
General Motors wrote:
"There is no cap on this program, but this charge is the company's best estimate of the amounts that may be paid to claimants. Due to the unique nature of the program, this estimate contains significant uncertainty and it is possible the total cost could increase by approximately $0.2 billion."
The Detroit-based automaker says it is changing how it estimates recall expenses in the future. Now, at the time of vehicle sale it will accrue an amount that represents the company's best estimate of future recall costs in North America.
As a result of this change, GM is taking a $0.9 billion non-cash pre-tax special charge for the estimated costs of future potential recalls for up to the next decade on thirty million GM vehicles currently on the road.
Before the recall charge, earnings per share (EPS) were $0.58; after the effect of the charge EPS was cut to $0.11.
Analysts see these actions as a sign that Mary Barra, GM's new Chief Executive, wants to deal with as much negative financial news as possible during the first six months of this year, so that the company can then focus on future growth plans.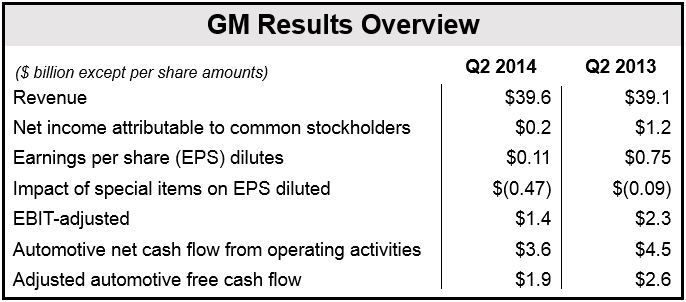 (Data source: GM)
North American operations disappoint
GM's core North American operations earned EBIT profit of $1.4 billion, after subtracting $1 billion for recalls.
This was below the $2 billion posted in Q2 2013, when recall costs totaled just $100 million.
Most Wall Street analysts were disappointed with the Q2 2014 result.
USA Today quoted Barclays analyst Brian Johnson who had forecast "Suburban-size" North American profits. He described the numbers as "below high expectations."
Strong core operating performance
Excluding the problems caused by nearly 29 million recalls, General Motors' core operating performance in the second quarter globally was not too bad. Net revenue, at $39.6 billion, was half-a-billion dollars up on a year ago.
While EBIT profits, including special items, were down in South America, Europe and North America, in the rest of the world they were up.
Ms. Barra said:
"Our underlying business performance in the first half of the year was strong as we grew our revenue on improved pricing and solid new vehicle launches."
"We remain focused on keeping our customers at the center of all we do, and executing our plan to operate profitably in every region of the world."
GM reports its fourth successive quarter of year-over-year margin growth in North America (excl. recalls), because transaction prices were three thousand dollars up on Q2 2013.
While making an (EBIT) loss of $100 million in South America and $300 million in Europe, operating profit in the rest of the world, including China, increased to $300 million.
Chuck Stevens, GM Executive Vice President and Chief Financial Officer, said the company is successfully launching new vehicles and generating strong results in China and the US. He added that GM "remains on track to be profitable in Europe by mid-decade."
Excluding the effect of recalls, Mr. Stevens expressed confidence that the company is on or ahead of plan to deliver the results promised earlier in the year.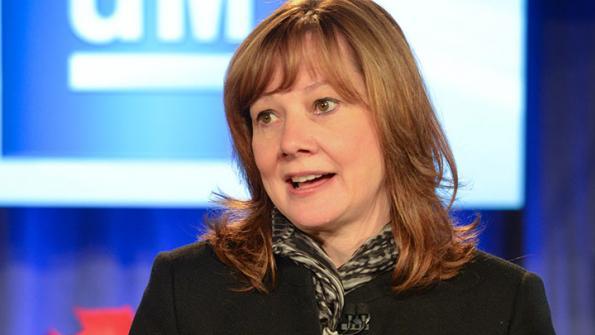 Mary Barra has been CEO of General Motors since January 15th, 2014.
Giant lawsuits looming
Despite its compensation calculations, there are some lawsuits mushrooming that could seriously undermine the company's growth plans.
In June, a complaint filed in the Federal Court in Riverside, California, says GM customers were harmed because the automaker had not revealed known faults. When they tried to sell their cars afterwards, they had to offer considerable discounts.
Attorneys at Hagens Berman Sobol Shapiro say customers have been unable to sell their GM cars for the going rates because the brand has been damaged.
The lawyers say that owners of late-model vehicles are having to sell at between $500 and $2,600 below second-hand market prices.
To compensate owners for the lower resale value of their vehicles, GM may be facing a total payout of over $10 billion, the lawyers claim. They add that not only owners of recalled vehicles are affected, but other owners too because the resale values of their cars were also lowered.