If you want to buy games and other digital content on Microsoft's Xbox, Windows Phone and Windows platforms, you can do so using bitcoins, marking another major milestone for the digital currency.
According to a Microsoft Commerce webpage, you can now use bitcoin to add funds to your Microsoft account. Once you have added the digital currency, you can use it to purchase games and a range of digital content.
Microsoft says most transactions using bitcoin should process immediately. If this does not happen, the customer is asked to wait for up to two hours before contacting support.
The Redmond-based multinational giant warns that money added to one's Microsoft account using bitcoin cannot be refunded "so make sure to review your transaction before paying with your digital wallet."
Bitcoin can only be used to buy Microsoft products if it is added to your Microsoft account first. You cannot use the digital currency to buy products and services directly.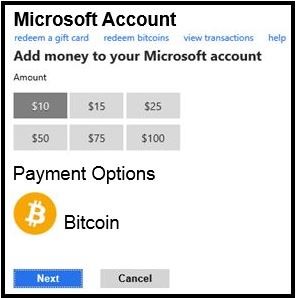 Microsoft is one of several companies, including PayPal and Expedia, accepting bitcoins.
In a blog, Eric Lockard, corporate vice president of Universal Store at Microsoft, said:
"For us, this is about giving people options and helping them do more on their devices and in the cloud. The use of digital currencies such as bitcoin, while not yet mainstream, is growing beyond the early enthusiasts. We expect this growth to continue and allowing people to use bitcoin to purchase our products and services now allows us to be at the front edge of that trend."
Microsoft founder Bill Gates said in October that he found bitcoin "exciting" and loved it because it was "cheap". In an interview he said "Bitcoin is exciting because it shows how cheap it can be. Bitcoin is better than currency in that you don't have to be physically in the same place. And of course for large transactions currency can get pretty inconvenient."