Nearly fifty new species of animals and plants are threatened, i.e. at high risk of becoming extinct, according to an Australian Federal government list. Scientists and environmentalists have welcomed the addition of 49 species, saying that it means that those animals and plants will now get special help.
The species were added to the list on Thursday under the Environment Protection and Biodiversity Conservation Act. They included the broad-toothed rat, the ghost bat, the swift parrot, the three-toed snake-tooth skink and several species of orchids and albatross.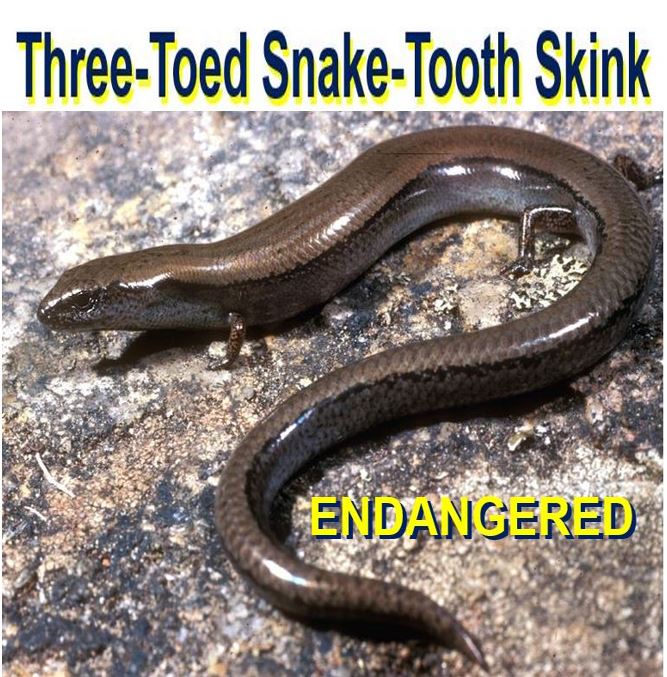 According to the NSW Government's Office of Environment & Heritage: "The Three-toed Snake-tooth Skink (Coeranoscincus reticulatus) is a large burrowing lizard with a head and body length of up to 23 cm and a thick, long tail. It has four very short legs, each with three clawed toes, and has long, curved teeth. The body colour varies from fawn to dark brown, usually with a dark collar on the back of the neck and fine patterning on the belly." (Image:prospect.sa.gov.au)
As soon as a species is added to the list, it receives extra protection under Australian environmental laws.
20% increase to the list this year
The list of endangered species was first set up fifteen years ago. This year's addition of 49 species represents a 20% increase on last year – the largest single year rise since 2009.
---
---
Gregory Andrews, Australia's Threatened Species Commissioner, said his country is in an 'extinction crisis'.
Mr. Andrews said:
"Australia has endured the worst rate of mammal extinctions in the world … We've lost 29 mammals in Australia since Europeans arrived. Ninety per cent of the animals found here are found nowhere else on Earth. They define who we are as a nation."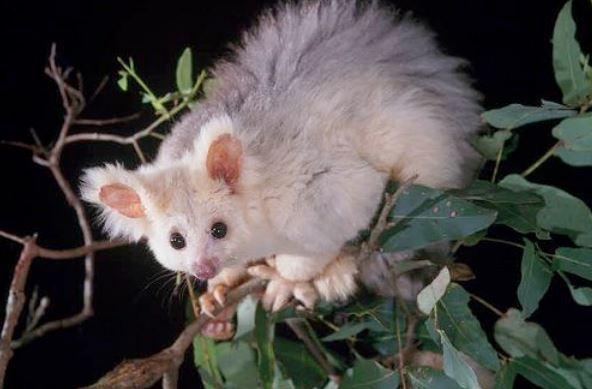 The Greater glider (Petauroides volans) has been added to the list. According to wildlife.org.au: "The Greater Glider can glide up to 100 metres and change direction up to 90 degrees as well. They are known to use a large number of hollows within the home range, and they can use between 2-18 different hollows." (Image: pinimg.com)
"The yellow-footed rock wallaby for example, is one of 16 wallabies at risk of extinction. We've already lost eight wallabies to extinction. They're gone forever. I follow the Wallabies rugby team but we can't keep naming our sporting teams after our animals and plants if we lose them to extinction. So many of our species have been neglected."
---
---
Government needs to spend more
Australian conservation campaigners say that in order to save threatened species, dedicated new funding is required. They point out that there was none in the country's most recent budget.
Jess Abrahams, from the Australian Conservation Foundation said that the Federal Government needs to 'dramatically increase' funding to implement the recovery plans that already exist, plus the new ones that are being drafted.
Professor Corey Bradshaw, Sir Hubert Wilkins chair of climate change at the University of Adelaide, welcomed the larger list, saying it was a win for conservation. He told ABC News:
"In a lot of ways it's encouraging to see the list growing. The [Environment Protection and Biodiversity Conservation] Act lists probably only a tiny fraction of the species that are truly in conservation peril simply because of a lack of information."
BirdLife International says: "This species [Swift Parrot – Lathamus discolor] has been uplisted to Critically Endangered because population modelling predicts an extremely rapid decline owing to nest predation by the introduced Sugar Glider Petaurus breviceps in its Tasmanian breeding range. Habitat loss and alteration are also thought to be contributing to declines." (Image: parks.tas.gov.au)
Additions to the threatened species list
The following species have been added to the list of threatened life forms:
– Amytornis dorotheae (Carpentarian Grasswren)
– Antechinus minimus maritimus (Swamp Antechinus (mainland)
– Atriplex yeelirrie
– Bettongia penicillata (Brush-tailed Bettong, Woylie)
– Caladenia drakeoides (Hinged Dragon Orchid)
– Calidris canutus (Red Knot, Knot)
– Calidris tenuirostris (Great Knot)
– Calochilus cupreus (Copper Beard Orchid)
– Charadrius leschenaultii (Greater Sand Plover, Large Sand Plover)
– Charadrius mongolus (Lesser Sand Plover, Mongolian Plover)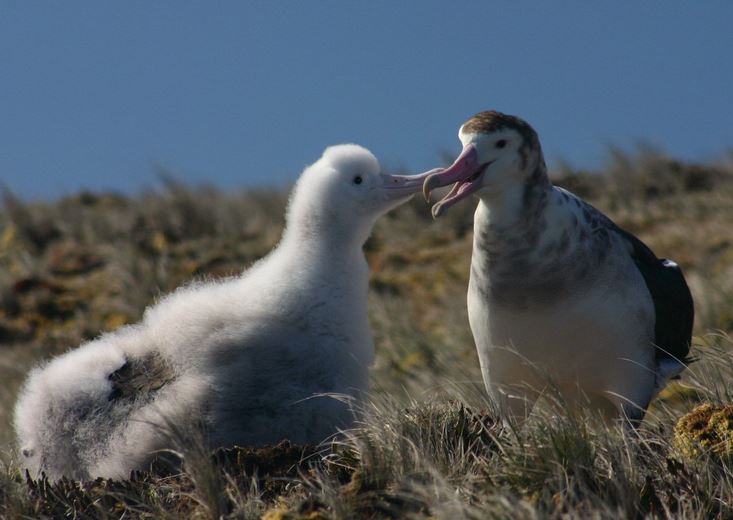 BirdLife International says that the Amsterdam Albatross (Diomedea amsterdamensis) is today Critically Endangered because it has a tiny population, and is confined to an extremely small area on one island. Although numbers have recently been increasing, a continuing decline is predicted owing to the impact of a disease which is probably already causing chick mortality. (Image: Wikipedia)
– Corunastylis brachystachya (Short-spiked Midge-orchid)
– Corunastylis firthii (Firth's Midge-orchid)
– Dendrobium antennatum (Antelope Orchid)
– Dendrobium mirbelianum (Dark-stemmed Antler Orchid, Mangrove Orchid)
– Dendrobium nindii (an orchid)
– Didymoglossum exiguum
– Diomedea amsterdamensis (Amsterdam Albatross)
– Diomedea antipodensis (Antipodean Albatross)
– Diomedea antipodensis gibsoni (Gibson's Albatross)
– Diomedea dabbenena (Tristan Albatross)
– Diomedea epomophora (sensu stricto) (Southern Royal Albatross)
– Diomedea sanfordi (Northern Royal Albatross)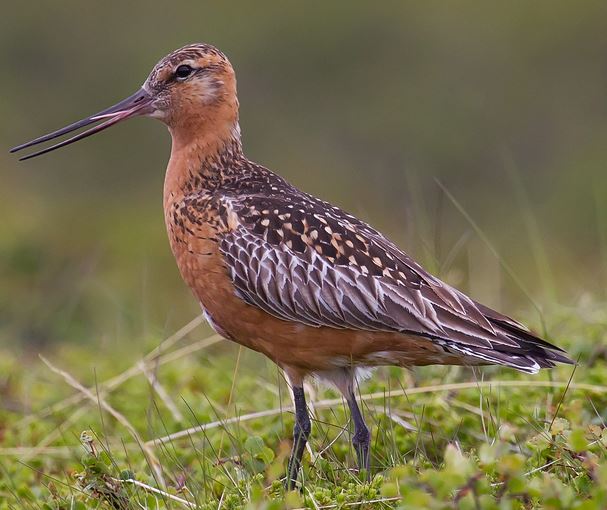 The Bar-tailed Godwit (Limosa lapponica), today listed as Vulnerable, is an amazing migratory bird. A recent study found that some individuals flew non-stop for 11,000 kilometres. (Image: Wikipedia)
– Eucalyptus macarthurii (Camden Woollybutt, Paddys River Box)
– Galaxias rostratus (Flathead Galaxias, Beaked Minnow, Flat-headed Galaxias, Flat-headed Jollytail, Flat-headed Minnow)
– Gingidia rupicola (Mountain Angelica, Broad-leafed Carrot)
– Kelleria bogongensis (Kelleria)
– Lathamus discolor (Swift Parrot)
– Limosa lapponica baueri (Bar-tailed Godwit (baueri), Western Alaskan Bar-tailed Godwit)
– Limosa lapponica menzbieri (Bar-tailed Godwit (menzbieri), Northern Siberian Bar-tailed Godwit)
– Macroderma gigas (Ghost Bat)
– Mastacomys fuscus (Broad-toothed Rat, Tooarrana)
– Paralucia pyrodiscus lucida (Eltham Copper Butterfly)
"Species are threatened because their habitat is destroyed, and we can easily, directly do something about this." https://t.co/r0iOJ6Aha4

— ACF (@AusConservation) 6 May 2016
– Petauroides volans (Greater Glider)
– Petrogale sharmani (Mount Claro Rock Wallaby, Sharman's Rock Wallaby)
– Petrogale xanthopus celeris (Yellow-footed Rock-wallaby (central-western Queensland)
– Petroica multicolor (Norfolk Island Robin)
– Phalaenopsis amabilis rosenstromii (Native Moth Orchid)
– Polyphlebium endlicherianum (Middle Filmy Fern)
– Prostanthera spathulata
– Pterostylis X aenigma (Enigmatic Greenhood)
– Pterostylis psammophila (Two-bristle Greenhood)
– Saiphos reticulatus (Three-toed Snake-tooth Skink)
– Stylidium ensatum (a triggerplant)
– Thalassarche impavida (Campbell Albatross, Campbell Black-browed Albatross)
– Thalassarche salvini (Salvin's Albatross)
– Thelymitra hygrophila (Blue Star Sun-orchid)
– Thynninorchis nothofagicola (Myrtle Elbow Orchid)
– Tympanocryptis condaminensis (Condamine Earless Dragon)
– Veronica parnkalliana (Port Lincoln Speedwell)
Video – Protecting Australia's incredible biodiversity
In this video, Gregory Andrews, Australia's Threatened Species Commissioner, explains that the Australian Government has for the first time a threatened species strategy to tackle the country's extinction crisis. 'We've already mobilised over AU$149 million to fight extinction."