The all female British Coxless Crew of rowers managed to cross the Pacific Ocean after a grueling 257 days at sea. During their voyage from the United States to Australia, they conquered enormous waves, sea sickness, inclement weather, dive-bombing birds and physical exhaustion, and became the first all-female team to complete one of the world's toughest challenges.
They set two world records:
1. The first team of women to cross the Pacific Ocean.
2. The first team of four to cross the Pacific Ocean.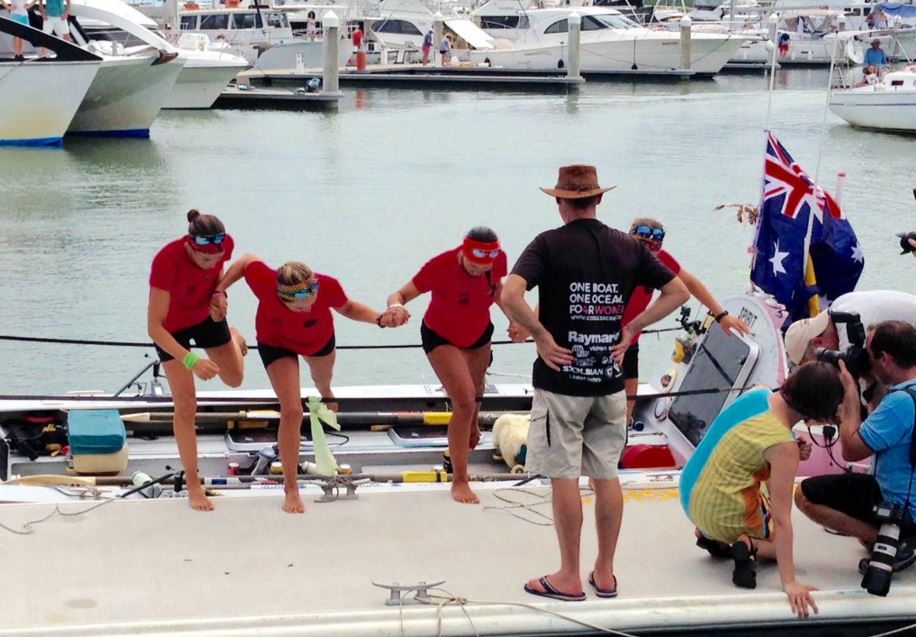 The four British women make history when they set foot on dry land in Cairns, Australia. (Image: twitter.com/coxlesscrew)
The Coxless Crew set off in April 2015 from under the Golden Gate Bridge in San Francisco, California, and arrived in Cairns, a city in Far North Queensland, Australia, just before 1 a.m. on Monday 25th January 2016.
During their 8,446-mile voyage, they rowed 24 hours a day in two-hour shifts. Each crew member burned 5,000 calories per day, consumed 770 dehydrated meals, rowed for 12 hours each day, and slept for 6 hours a day in 90-minute sessions.
---
---
They made landfall twice – in Samoa and Hawaii for up to a week – where they restocked supplies.
The crew of four consisted of three permanent members – Emma Mitchell, Natalia Cohen and Laura Penhaul – plus Meg Dyos, Isabel Burnham and Lizanne van Vuuren, who each joined them for a portion of the trip.
An overwhelming experience
Ms. Penhaul, 32, a physiotherapist (US: physical therapist), said:
"This was an overwhelming experience and an overwhelming arrival that we had really not expected. It's been a long slog but it's great to be here at the finish line as true friends."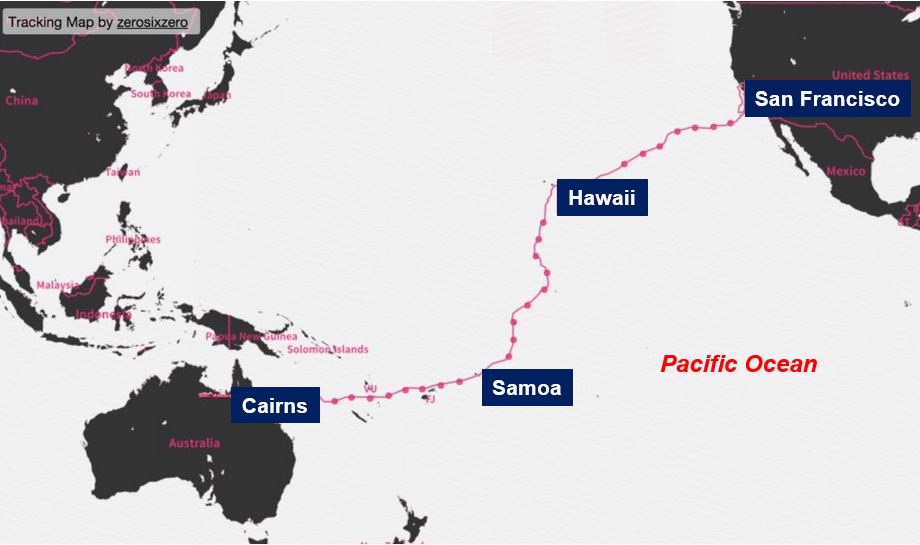 They rowed for 8,446-miles with nothing but their willpower. (Image: twitter.com/zerosixzeromap)
Ms. Cohen, 40, an adventure tour leader, who felt sad it was all over, but also elated, said:
"It's actually really strange to know that this is the final time that we're going to be on water. It's a little bit sad in a way but I think we're all quite elated at the same time."
They lived in Doris the boat
The crew members lived in a boat called Doris – 8.84 metres (29 ft) long, 2.13 metres (7 ft) wide, weighing 1.5 tonnes. Each rower had two oars and a sliding seat. Below deck there was storage space, which they accessed through a hatch on the deck. Spare parts, tools, rope and food were stored under the deck.
After an exhausting 2-hour shift of non-stop rowing, each crew member slept for just 90 minutes. This went on twenty four hours a day, seven days a week. (Image: facebook.com/crew.coxless)
The name comes from the ancient Greek name 'Δωρις' (Doris) which meant 'Dorian woman'. The Dorians were one of the four major ethnic groups among the Hellenes (Greeks) of Classical Greece. They occupied the Peloponnese starting in the 12th century BC.
According to Greek mythology, Doris was a sea nymph, one of Oceanus and Tethys' many children. In the 19th century, it started to be used as an English name.
Ms. Burnham, a solicitor (lawyer) said "Doris is arguably the most important member of our team. She is designed to withstand the worst weather the ocean can throw at her."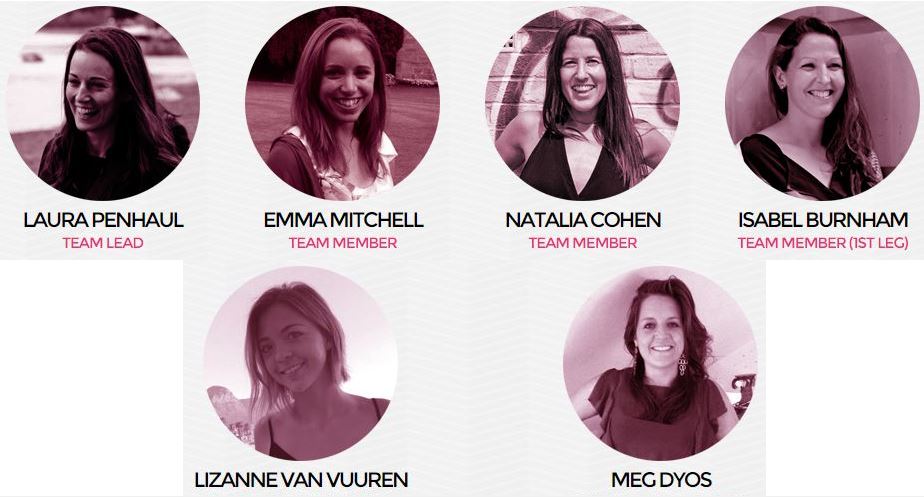 The Coxless Crew – an inspiration to every man, woman and child. (Image: coxlesscrew.com)
They also had a capsule that they used for shelter. Ms. Mitchell, 30, an expedition manager, said:
"We'd spend two hours rowing and then we'd go into this tiny capsule which was about the size of a cosy two-man tent. It's our laundry, our kitchen, our dining room – kind of everything really."
"It was quite hard to be in there without touching someone else and it was very hot and very sweaty, especially in big waves where we had to keep all the hatches closed all the time."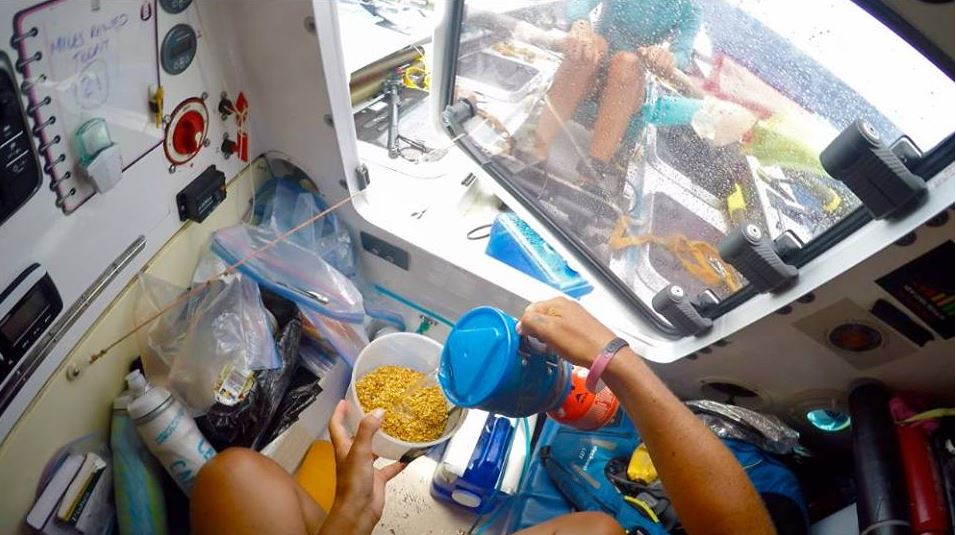 Eating dehydrated food. Crew members had to make sure they were consuming the calories required for each 2-hour rowing shift. Ms. Van Vuuren said "Just tell your brain you like it, and you'll like it" (Image: facebook.com/crew.coxless)
Their meals
Their aim was to consume about 5,000 calories each day. This was done by consuming dehydrated meals of spaghetti Bolognese, curries and chicken noodles, supplemented by porridge (oatmeal), nuts, chocolate and protein bars.
On Christmas Day they celebrated with a Christmas cake. Once they used the rays of the Sun to cook pancakes on deck.
Their fluid intake consisted of desalinated seawater and protein shakes.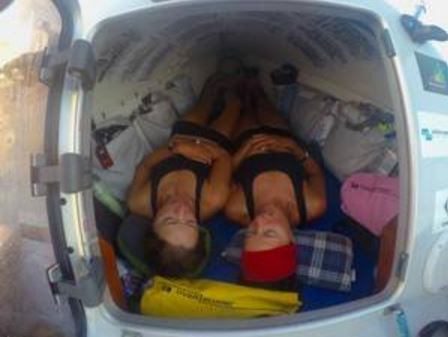 Sleeping conditions were cramped. But crew members were probably so exhausted, they likely fell asleep in seconds. (Image: facebook.com/crew.coxless)
Their cutlery consisted of a spoon-shaped eating utensil with short tines at the tip – a spork.
Apparently, if you tell your brain that you like eating the rations, you will like it, Ms. Van Vuuren, an osteopath, said.
The crew were greeted by their families in Australia. When they arrived, they said they were looking forward to proper sleep and 'a nice shower.'
They are raising money for the charities Breast Cancer Care and Walking with the Wounded.
As they negotiated the Great Barrier Reef near the end of their journey, their supplies were beginning to run worryingly low and they had to muster all their strength to finish the last few miles.
Video – 4 women rowing across the Pacific Ocean
Losing Sight of Shore is a documentary about the incredible journey of four brave women – The Coxless Crew – that set out to row across the Pacific Ocean from San Francisco to Australia to honor other women that have fought and overcome adversity.