NovaSAR-1, an all-British radar satellite, will track illegal shipping activity. It will also assume several other roles.
The satellite can take pictures of Earth's surface in all kinds of weather. It can also take pictures when it is dark, i.e., during night-time.
NovaSAR-1 is undergoing final launch preparations at the Satish Dhawan Space Centre in Sriharikota, India. If everything goes according to plan, lift-off will be today, Sunday, 16th September 17:37 BST (16:37 UTC).
According to the makers of the radar satellite, SSTL (Surrey Satellite Technology Limited):
"NovaSAR-1 is a technology demonstration mission designed to test the capabilities of a new low-cost S-Band SAR platform."
"The satellite was designed and manufactured by SSTL, with an S-Band SAR payload developed by Airbus Defence and Space in Portsmouth, UK and an Automatic Identification Receiver supplied by Honeywell Aerospace."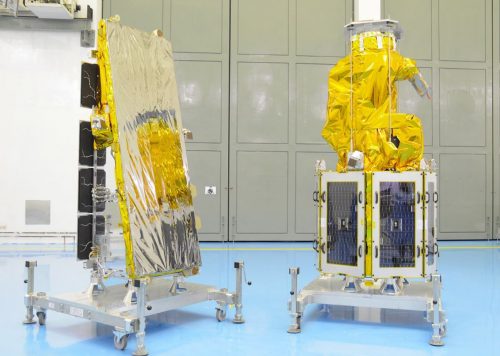 NovaSAR-1 to monitor marine environment
The satellite has a dedicated maritime mode designed with an extremely wide swath area of 400 km (248 miles). This will enable it to monitor the marine environment effectively.
It will provide direct radar ship detection data simultaneously with AIS (Automatic Identification System) ship-tracking data. It will thus be able to identify and track sea-going vessels.
SSTL added:
"In addition to operating in maritime mode, NovaSAR-1 has been optimised with three additional imaging modes, including a six-metre resolution imaging mode, for a range of other applications, such as flood monitoring and agricultural and forestry applications."
In an interview with BBC News, Luis Gomes, SSTL's Chief Technology Officer, said:
"We are very interested in this maritime mode, which is a 400km-plus swath mode. It is important to be able to monitor large areas of the ocean – something we don't do at the moment."
"We all saw with the Malaysian airline crash in the Indian Ocean the difficulty there was in monitoring that vast area. We can do that kind of thing with radar and NovaSAR is good for that," he told BBC News."