The robot age will take away millions of human jobs. However, it will also create millions of new jobs, says the World Economic Forum's Future of Jobs Report 2018. In fact, it will create many more human jobs than it will eliminate.
The Report covers twelve industries in twenty economies across the world.
During the robot age, the workplace will create nearly double the number of jobs by 2025 than it destroys, the report estimates.
The robot age – good for human jobs
The Report predicts that the robot age will create approximately 130 million jobs by 2025. It will also destroy about seventy-five million jobs. However, that leaves us with a healthy surplus. In other words, we will end up gaining more jobs than we lose to robots, machines, and algorithms.
This World Economic Forum's estimate should go some way towards calming growing fears of massive job losses. Specifically, job losses due to automation.
Automation refers to a technique, system, or method of controlling or operating a process by automatic means, using robots, computers, and AI.
AI stands for artificial intelligence. Artificial intelligence refers to software technologies that make robots and computers think like human beings. AI also makes them behave like humans.
What is a robot?
A robot is a machine or device – one that we can program. We program robots to do things. In business, we program them to help us make goods or provide services. We also have companion robots and toy robots. Many robots have artificial intelligence.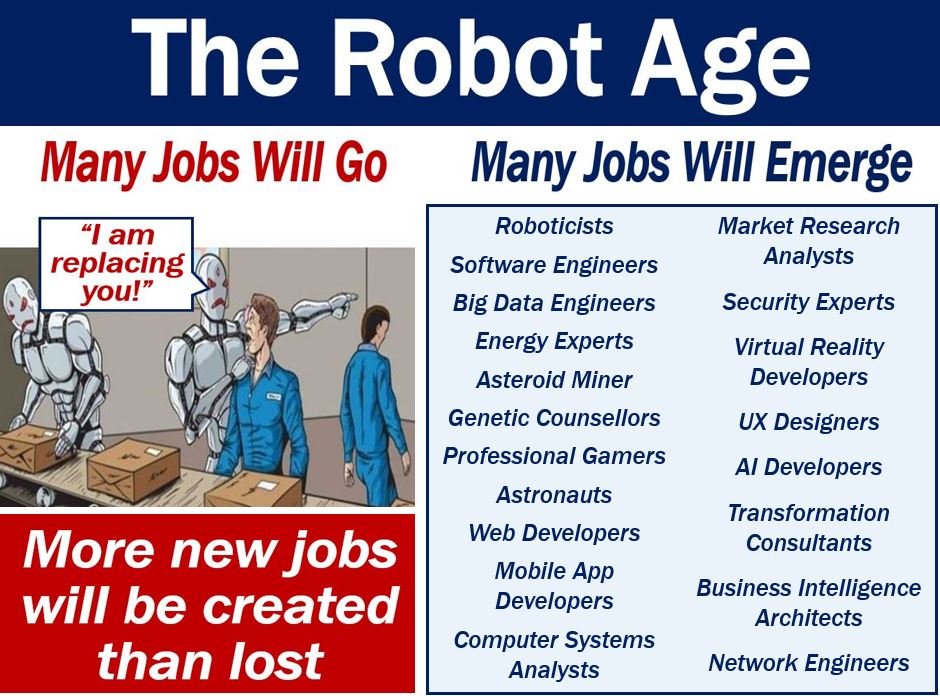 Coordination between stakeholders
Managing the structural shifts in the jobs market will require better coordination between workers and employers. It will also require better coordination between employers, workers, and policy-makers.
Regarding this necessary coordination, the World Economic Forum says:
"If managed wisely, these transformations could lead to a new age of good work, good jobs and improved quality of life for all, but if managed poorly, they pose the risk of widening skills gaps, greater inequality, and broader polarization."
Future of work in the robot age
To create a positive future of work in the robot age, the Forum says these conditions are crucial:
A shared approach
Industries must have a shared approach to managing transformations in the workforce. Technology adoption, across different industries, looks very different.
Some firms are considering having some use of wearable electronics in the next five years. In the health and healthcare industry, on the other hand, the figure is well over seventy percent of companies.
Companies need to get together to achieve large-scale talent development. If each one tries to do it in isolation, it won't work.
Each company must define its augmentation strategy
Demand for skills such as programming and technology design will continue to grow. However, demand for 'human' skills' such as initiative, critical thinking, emotional intelligence, and originality will grow too. Service orientation, social influence, leadership, and attention to detail are also 'human skills.'
Many employers will introduce cost-cutting technologies and automation. Their future growth will subsequently depend on creating new and differentiated goods and services for which human skills are vital.
The World Economic Forum writes:
"But for the concept of augmentation to go beyond a euphemism for simple automation, the human capital of companies can no longer be a liability but an asset."
"Together with other executives, chief human resources officers must be the new leaders at the frontlines of driving growth by creating a human-machine augmentation strategy for their organizations."
Government policies
Governments need to activate modern market policies. In the not-too-distant future, white collar workers will need to spend an average of 101 days re-skilling, says the Forum.
However, some workers will require at least two years to upgrade their skills. For workforces to function effectively in tomorrow's robot age, governments will need to play a proactive role.
A universal definition of skills
The Forum adds that all stakeholders will need a common language for assessing and designing skills.
The Forum says:
"We need to develop a common pooled taxonomy around talent to understand what constitutes a skill, a competency, an ability or a trait – and how to assess it.
"Such a taxonomy can serve as a basis for an agile, transferable approach to degrees, diplomas, certifications, micro-credentials, recruiting and staffing."
---
Video – Artificial Intelligence
---