Renault half year sales increased by 4.7%. Strong performances of the Clio, Duster phase 2, Sandero and Captur models in Europe helped offset the steep falls in its main emerging markets.
A total of 1,365,418 vehicles were sold globally by the Renault Group during the first six months of this year.
In Europe, group sales rose by 18%, far exceeding the market's overall 6.5% growth. Dacia, the company's fastest growing brand over the semester, posted a 13% increase in sales and a 0.5% point gain in market share.
Outside Europe, group sales declined by 9%, due to the economic and financial problems of the company's main emerging markets. Market share in Latin America and Eurasia remain unchanged.
Jérôme Stoll, Renault's Chief Performance Officer and Executive Vice-President, Sales and Marketing, said in a statement:
"In the first half of 2014, Renault brand sales in Europe were up, thanks to Clio and Captur. Dacia is the fastest growing brand in the Region. As a result, Renault is able to diminish the impact of the decline in our main emerging markets and to maintain the Group's positive momentum."
First half-year sales Europe
The Group sold 18% more vehicles, and took a PC+ LCV (private car and light commercial vehicle) market share of 10.2%, an increase of one percentage point.
Sales increased considerably across all nations, most notably in:
The Renault Clio was France's best-selling car and Europe's third best seller.
With a 7.6% penetration of the market, an increase of 0.4 percentage point, Renault is the third largest seller of cars and light commercial vehicles in Europe.
Renault is the *B-segment (supermini) leader with the Clio and Captur. Light commercial vehicle sales rose 11%, gaining a 14.3% market share, an increase of 0.2 percentage point.
*Supermini or B-segment is a class of vehicle larger than a city car but smaller than a small family car.
Of all the Renault brands, Dacia posted the strongest increase. Boosted by the renewal of its range, Dacia's car and light commercial vehicle market share rose 0.5 percentage point to 2.6%.
France
Renault delivered 313,682 vehicles in France, a rise of 12.5%, gaining a 2.4 percentage-point-increase in market share to 27.3%. The Clio was the best-selling vehicle with 33,910 sales, while the Captur was the country's best-selling sports utility vehicle (SUV).
The Scénic, the nation's leading compact multi-purpose vehicle (MPV), is holding its ground against newer competitive models.
At the end of June, five of Renault's models were among the top-10 best-selling vehicles in France.
Dacia gained 1.1 percentage points, capturing 5.3% of the French car and light commercial vehicle market. It is the fifth best-selling brand in France (fourth for sales to private individuals).
Duster and Sandero sales surged by more than 58% and 30% respectively in France during the first six months of 2014 compared to the same period on 2013.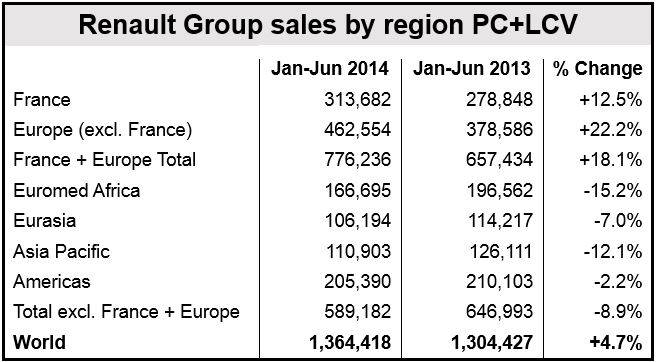 (Source: Renault Group)
First half-year sales in emerging markets

Sales in Renault's main emerging markets fell 9% to 589,000 units. In the first half of 2013, emerging markets represented 50% of total sales, compared to 43% this year.
The following emerging market nations posted declining sales:
Eurasia
Renault did better than expected – with overall vehicle sales down 9% in the region, the company posted a 7% decline.
Russia is Renault's third biggest market. It is the second best-selling brand in the country, after Lada, with a 7.8% market share.
Ukraine gave way to Kazakhstan as the second biggest market in the region (11% market share). The Duster did particularly well in Kazakhstan, where sales doubled and market share surged to by 2.6 percentage points to 5.4%.
(Source: Renault Group)
Asia-Pacific
A total of 110,903 cars and light commercial vehicles were sold in the Asia-Pacific region, a fall of -12% (-2.8% excluding Iran), mainly because of the situation in Iran and the steep decline in the Indian market.
Renault's market share in the region fell to 0.5%.
Renault Samsung Motors posted 40% growth in South Korea, where the overall market expanded by 7%; market share increased by 1.1 percentage points to 4.7%.
Euromed-African Region
Renault sales declined by 15% in a vehicle market that shrank by 11%. Much of Renault's lower sales in the region were due to Algeria's major downturn. However, with a 25.4% market share, the company is still the market leader in Algeria.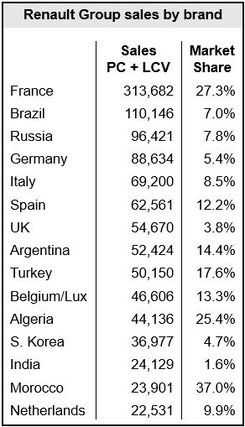 Although sales in Turkey declined by 26%, its market share in the country rose 0.5 percentage point to 17.6%. The best-selling vehicle in this market was the Fluence.
In Morocco, among the top 10 models at the end of May, six were Renault vehicles. Market share stood at 37%.
Americas region
A total of 205,390 vehicles were delivered in the first six months of this year, 2% fewer than during the same period last year. The overall regional market for all vehicles fell 9%.
In Renault's second largest market, Brazil, sales rose by 8% 110,146 units, even though the market declined by 7%. The Group's market share in the country rose 1 percentage point to 7%.
Sales in the "vulnerable" Argentinian market fell by 24%, but Renault's market share remained unchanged at 14.4%.
Renault 2014 sales outlook
The Group forecasts annual growth of 3% to 4% in Europe, with the French market posting a 1% rise.
Renault wrote in a press release "Within this context, Renault confirms its earlier projections of market share gain in Europe and of increased worldwide sales volumes."
To achieve this, Renault says it will rely on:
the proven success of its new cars: Duster phase 2, Sandero, Clio and Captur,
the forthcoming launches of the New Trafic and New Twingo,
the global roll-out of the New Sandero and New Logan.
Mr. Stoll said:
"The continued renewal of Logan and Sandero internationally should enable us to hold firm in falling emerging markets. In Europe, the imminent launches of New Twingo and New Trafic will confirm the trend of the first six months. Within this context, we confirm our projections of increased market share in Europe and of greater worldwide sales."