From 2000 to 2012, expenditure by Alberta municipalities increased at an unsustainable rate, says a new report published on Thursday by the Canadian Federation of Independent Business (CFIB). In this context, 'unsustainable' means that they will not be able to keep up the current rate of spending increase.
The report – "Alberta Municipal Spending Watch – 2014" – found that inflation-adjusted spending increased by 80% during the twelve-year period, which was about 2.5 times the province's population growth of 29%.
Of the 181 municipalities with populations exceeding 1,000, only twelve posted operating spending increases at or below population growth.
The author's added, however, that during the last year of the study (2012), spending growth was only 1.3% compared to a 3.4% increase in population.
Senior Policy Analyst for CFIB, Amber Ruddy, said:
"Over the past twelve years, most of Alberta's larger municipalities have been on a fiscally unsustainable path. As a result, it's no surprise that some municipal leaders demand more revenue generating power. Without greater ongoing fiscal discipline, the pressure to simply hike taxes, or ask for new taxes, will only grow."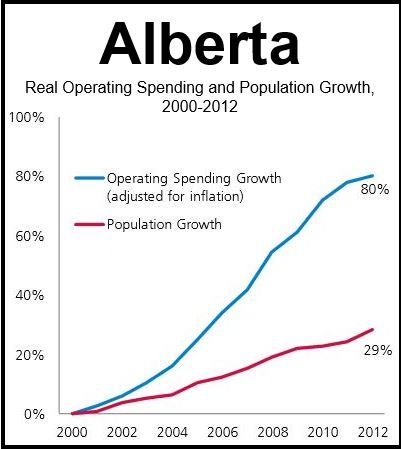 (Source: "Alberta Municipal Spending Report – 2014")
The authors gathered and analyzed data from the Ministry of Municipal Affairs from 2000 through 2012. They found that operating spending by all Alberta's municipalities reached $7.8 billion in 2012. Fifty-six percent of all the money was spent on wages, salaries and benefits.
Spending on benefits, salaries and wages over the 12-year period rose by 91%, which was more than triple the population growth rate.
Ruddy said:
"Since compensation costs represent the lion's share of their operating budgets, it is critical for mayors and councils to exert better control over rising municipal government operating expenses. Otherwise, the upward spiral of more spending and higher taxes will continue."
Municipal governments say there have been huge amounts of downloading that led to higher operating costs. However, according to the report, transfers from federal and provincial government jumped by a massive 369% during the study period.
In order to better control operating cost growth, the CFIB recommends strictly aligning spending increases to population growth rates, carrying out formal spending reviews, adopting sustainable benefit and wage policies, "denying new revenue-generating tools for cities," and the creation of a new municipal auditor general to oversee expenditure in Alberta's municipalities.