A Russian capital flight warning has been issued by several analysts as well as the country's deputy economy minister, Andrei Klepach, who also said that the country is facing rising inflation combined with stagnant growth.
Capital flight is when people move their money out of a country in large amounts. Capital flight is the event, while flight capital is the money itself.
Klepach expects a Russian capital flight (investors moving money out of the country) of approximately $70 billion during the first quarter of 2014. The Russian economy ministry places the capital flight figure between $65 billion and $70 billion.
In 2013, a total of $63 billion was taken out of the country by investors. Analysts expect the figure to be much higher for 2014.
The speed at which Russia organized a referendum in Crimea and its consequent annexation triggered the first salvo of limited sanctions by the United States and the European Union. Investors have become nervous and concerned about their Russian investments.
Russian economy zero growth

Klepach said to reporters on Monday that he expects GDP (gross domestic product) growth in Q1 2014 to be "around zero." In 2013 GDP expanded by a disappointing 1.3% and investment was significantly down. He added that Russia's recovery from stagnation seems less likely now than a couple of months ago.
Klepach said:
"There won't be a recession, but there is a problem of stagnation: it's length and depth. Unfortunately the investment slump is continuing. I'm not ready to say how long it will continue."
The deputy economy minister said western sanctions against Russia have not yet had a painful impact on the country's economy, however, he warned that "(the) worsening of relations is a significantly negative factor for economic growth and correspondingly influences the capital outflow."
The Telegraph quotes Bartosz Pawlowski from PBP Paribas, who said about the sanctions and their effect on Russian capital flight and other aspects of the country's economy, "It is shocking. Markets have been extremely complacent, fooling themselves that Russia is invulnerable because it has almost half a trillion in foreign reserves. But reserves can become almost irrelevant in this sort of crisis."
Foreign reserves refers to dollars, pounds, euros, and other foreign currencies that a central bank holds.
Many analysts fear that Russian authorities may impose legislation or coercion tools to stop funds from leaving the country. Most agree that recent events have permanently damaged the Russian economy because investors have lost confidence.
Allied sanctions gradually increasing
The European Union (EU) and United States are ramping up pressure on virtually a daily basis after a series of initial sanctions imposed last week on President Vladimir Putin's inner circle of friends and colleagues.
In a move to encourage the EU to consider sanctions with less fear of economic reprisals from Russia, the US Energy Department has announced that it will allow liquefied natural gas exports from Jordan Cove in Oregon. The EU is dependent on Russia for about one third of its natural gas supplies.
Senator Lisa Murkowski, a key member of the Senate Energy Committee, said the US Energy Department's move "sends a positive signal to our allies."
The EU imports approximately 130 billion cubic meters (BCM) of liquefied natural gas (LNG) from Russia. The US Energy Department has freed up nearly 80 billion BCM which can potentially be used to supply Europe in the event of a Russian tit-for-tat response.
Leaders of EU Member States and European Commission officials told their staff to find a way of reducing dependence on Russian gas within the next 90 days. Russia must understand, they emphasized, that the Kremlin will not be able to use gas supplies as a tool to pressure European decisions regarding the Ukraine crisis.
If more LNG were imported from Norway, Dutch output increased, and spare capacity of LNG terminals used up, the EU could reduce its dependence on Russian imports to zero, the Brussels think-tank Brueghel concluded this week.
Sanctions so far
EU and US sanctions so far have focused on the financial sector. Mastercard and Visa have stopped providing two Russian banks with credit card services. Sberbank, Russia's largest high street bank, has reduced its 2014 growth forecast to zero. If the Russian capital flight reaches $100 billion, the bank warns it could slide into a serious slump.
The EU has placed 51 Russians, Crimeans and Ukrainians on its 'blacklist' – their assets have been frozen, plus they have been told they will be denied visitor's visas. The US has done the same on 31 individuals.
Fredrik Erixon, director of the European Centre for International Political Economy, said:
"The current sanctions are still too little to matter, but that's not by accident – it's by design. The EU and U.S. are sitting on weapons of mass destruction when it comes to Russia's economy. The U.S. and EU are laying out possible step-by-step economic sanctions that will start rolling into place if Putin doesn't behave."
If Russia attempts to take over other parts of the Ukraine, the US and the seven other major economies – the G-7 – threatened further sanctions. The Group of Seven said that Russia has been dropped from the G-8 and it will not attend the scheduled G-8 Sochi meeting. An alternative G-7 meeting will be held in Brussels in June.
The G-7 consists of the following countries: the US, UK, Italy, France, Japan, Germany, and Canada.
Invading eastern Ukraine a "risky option"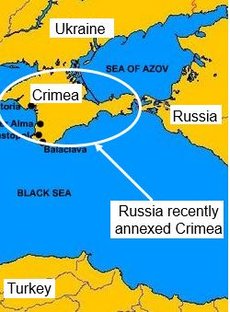 The Rt Hon Sir Roderic Lyne, Deputy Chairman, Chatham House, London; Adviser, Russia and Eurasia Programme, and also the former British Ambassador in Moscow, said:
"While a Russian invasion of eastern Ukraine can by no means be excluded, Putin must surely calculate that it would be a poor and risky option. He also knows that it would trigger much deeper Western sanctions, which would hit his Achilles heel – Russia's declining, unreformed economy. In the back of his mind will be memories of the Politburo's ousting of Nikita Khrushchev after the humiliating failure of his high-risk adventurism over Cuba. Far better for Putin to sustain the leverage of the threat than to risk using it."
"Would the appearance of EU envoys in the Kremlin, pleading with Putin to get off the backs of the Ukrainians, make any difference to his calculation? If, notwithstanding the downside, Putin is bent on further escalation, European pleas would not stop him. The envoys would risk receiving an ultimatum instead."
"The US and the EU were right to try to negotiate with Putin before the annexation of Crimea. Had he been willing to negotiate, there could have been an acceptable and peaceful outcome. He was not willing. He unleashed a propaganda onslaught on his domestic audience, so effectively that even people in Moscow who should have known better were talking to me last week about 'pogroms' in Ukraine and a 'failed state run by fascists'.
Allies consider their next move
The US and its allies and Russia have spent the day working out their next moves, while Russia strengthens its control over Crimea and consolidates its troop buildup along the border with Ukraine. Diplomats and lawmakers say the Ukraine crisis is the most serious faceoff between the Western allies and Moscow since the collapse of the Soviet Union.
Oleksandr Shlapak, Ukraine's finance minister says the IMF (International Monetary Fund) is about to announce a bailout loan for Ukraine. The IMF and Ukraine government have been in talks about a bailout package worth between $15 billion and $20 billion. Shlapak says his country's GDP is expected to shrink by 3% in 2014.
Sanctions starting to hurt?
Apart from the accelerated Russian capital flight, EU and US officials say the sanctions are already having some effect. Moscow's MICEX stock index has slid 13% so far this year, compared to 4.8% in the other major emerging markets.
The ruble, Russia's currency, has declined by 7.9% since January 1st, 2014. Among the 24-developing-market currencies tracked by Bloomberg, the ruble has been the worst performer so far this year.
A ruble-bond auction scheduled for Wednesday has been cancelled for the fourth time in a row, due to "unfavorable market conditions."
Video – Russian capital flight warning by minister
Written by [google_authorship]