A growing number of companies and organizations are planning to take on more staff during the next 12 months as their prospects for expansion improve, but 63% of them have expressed serious concern about the current skills gap that makes it difficult get the right people.
PwC (PricewaterhouseCoopers) carried out a survey involving 1,300 chief executive officers in 68 nations. The survey found that after several years of cutting their workforce, half of respondents are looking to hire again.
Seventy-one percent of organizations in the middle east, 54% in South East Asia and 53% in China plan to take on more people over the next 12 months – the three regions with the highest predicted job gains.
Fifty-one percent of businesses services, 49% of insurance companies and 46% of technology firms plan to expand their workforce.
Skills gap is the biggest business threat
In spite of better job prospects, the study found that business leaders fear that finding the right people to fill these roles will not be easy. Sixty-three percent of CEOs say "the availability of key skills is the biggest business threat" to their companies' growth.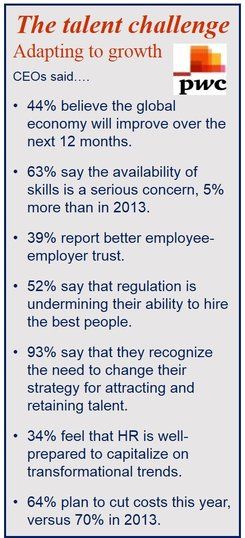 Ninety-six percent of CEOs in Africa, along with 90% in South East Asia and 87% in South Africa expressed alarm at the skills gap. The shortage of skilled employees is affecting engineering and technology companies the most.
Organizations looking beyond their borders
The expanding skills gap and rising labor costs in emerging markets is forcing companies to look to new markets for the right people.
According to PwC "Many multinationals have already raided the pipeline of graduates and skilled young workers emerging from China and India, and there are signs that employees in these regions are beginning to favor domestic employers over their western rivals. Organizations are now widening their reach for new talent into Indonesia, Vietnam and the Philippines."
Global HR consulting leader at PwC Michael Rendell, said:
"The gap between the skills of the current workforce and the skills businesses need to achieve their growth plans is widening. Despite rising business confidence equating to more jobs, organizations are struggling to find the right people to fill these positions."
"Half of CEOs plan to hire more people in the next 12 months, meaning competition for talent will be intense at the same time as the battleground has been re-drawn. Business leaders are looking for people with a far wider range of skills than ever before. Gone are the days of life-time careers; chameleon-like employees who apply their skills whenever and wherever they're needed are now in high demand."
"Businesses need to get out of the mindset that new skills equals new people. The most successful organisations will combine recruitment with developing their own people to be more adaptable to its changing plans."
CEOs urging governments
According to the study, CEOs are urging their governments to do more to help reduce the skills gap. Forty percent of CEOs say one of the government's top three priorities should be creating a skilled workforce.
Fifty-two percent of the survey's respondents say that regulations are hampering their ability to attract the best people. Only 20% believe that their government has done a good job in improving workforce skills in their country or region.
In contrast, 93% believe their strategy for attracting and retaining talent needs to change, but 60% have not done anything about this yet.
Global HR consulting leader at PwC, Michael Rendell, said:
"CEOs are laying much of the blame for the skills shortage at the feet of government and legislators, but they should accept that they need to re-think the way they think about, look for and value their employees. CEOs should be taking advantage of the developments in HR data analytics to predict the skills they will need and plan for changes in demand and supply."